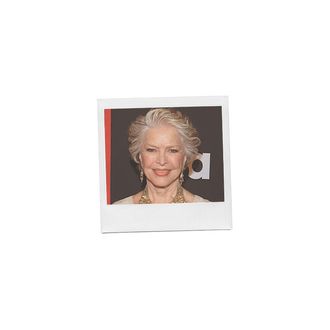 Photo: Robin Marchant/Getty
Age: 79
Neighborhood: Just north of Manhattan, on the Hudson. Currently seeking an apartment on the lower west side of Manhattan (Chelsea, West Village) with as beautiful a view of the river as I have now.
Occupation: Actor, writer, teacher, appearing in the film Someday This Pain Will Be Useful to You, which opens this Friday, October 5.
 Who's your favorite New Yorker, living or dead, real or fictional?
Lee Strasberg. Not only was he the best acting teacher of the century, but he had the best New Year's Eve parties ever.  The elite of New York and Hollywood theatre and film communities would be there. Invariably, Lee would end up in his small study playing a piece of classical music he wanted to share with a few of us.  You couldn't be around him without learning something.
What's the best meal you've eaten in New York?
I love Mid-Eastern food and feel like I'm falling into culinary heaven whenever I have a meal at Turkish Kitchen, on Third Avenue and 28th Street. I started going a few years ago when the Actors Studio was being renovated and we relocated temporarily to Baruch University.
In one sentence, what do you actually do all day in your job?
I prepare my character, research the time and milieu she lives in, write a history for her, discover who she is intellectually, emotionally, politically, how she dresses, wears her hair, then go out onstage or in front of a camera and give it all I've got.
What was your first job in New York?
I was a chorus girl at a nightclub on Third Avenue that had a Gay 90s theme. I didn't last long. I rehearsed with a line of girls, but just before opening we were asked to sit with a party of gentlemen and have a drink with them. I ordered a drink, but they served me ginger ale and charged the gentlemen full price. I told the owner I couldn't do that. They fired me.
What's the last thing you saw on Broadway?
One Man, Two Guvnors. I must admit I went to see the show with a bad attitude. I couldn't believe Philip Seymour Hoffman didn't win the Tony for his amazing performance in Death of a Salesman and that the award was given to James Corden. So I sat with my arms crossed for the first ten minutes of the show refusing to laugh. But they broke me down. It's a hilarious show and James Corden is impossible to resist.
Do you give money to panhandlers?
Sometimes.
What's your drink?
Water.
How often do you prepare your own meals?
Every day: I consider myself a good cook.  I don't know if anyone else would agree except my son.
What's your favorite medication?
Vitamins. I buy them and other supplements at health food stores, organic if possible.  I make an effort to keep the least amount of chemicals in my body.
What's hanging above your sofa?
I have masks from my travels to Africa, Mexico, and Bali, icons like an oil portrait of Christ that I bought in Jerusalem, and a mandala that I found in Nepal.
How much is too much to spend on a haircut?  
$1 on a bad haircut.
When's bedtime?
10 p.m.
Which do you prefer, the old Times Square or the new Times Square?
I prefer the old Times Square. Our current Times Square is too much of muchness for my taste. Too much neon, too many people, too many advertisements. I preferred the slightly more modest scale of the old Times Square, but I must say it is impressive the way it is now.
What do you think of Donald Trump?
He has very bad taste in architecture. His buildings on the West Side should be torn down.
What do you hate most about living in New York?
Potholes. I live slightly out of Manhattan and in the winter after a snow storm, the potholes that line my route take me by surprise and bounce me into the roof of my car.
Who is your mortal enemy?
My appetite.
When's the last time you drove a car?
Ten minutes ago.
How has the Wall Street crash affected you?
It's made me a tightwad. I used to not think about how much I was spending in a store; I bought whatever appealed to me. Now I'm more selective, which is a better way to be.
Times, Post, or Daily News?
Times!
Where do you go to be alone?
My garden. I have a pretty big garden filled with hydrangeas and knock-out roses and hostas, then I fill in the blank spaces with annuals every year.
What makes someone a New Yorker?
Waddya askin' for?#!!!? Fuhgeddaboudit!