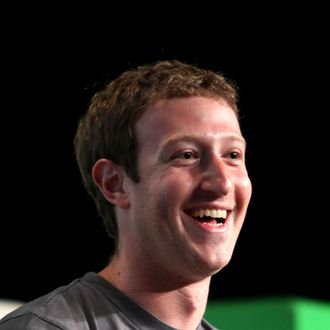 Happy Zuck.
Photo: Max Morse/Getty Images
It took five months, but Facebook finally caught a break.
The social network's stock is way up today — more than 20 percent as of midday — putting Facebook on track to have its best ever day as a public company. The nominal reason for the gains is that yesterday's earnings report was better than analysts had expected, with a small loss attributable to all those stock options employees cashed in when their lock-ups ended.
But the gains are really about one thing: mobile advertising. Facebook made $153 million from selling advertisements for its mobile apps last quarter, a figure that represents 14 percent of all its advertising revenue. And while those ads will clog your timeline, they represent a sign that Facebook is coming close to solving its biggest problem.
Why is mobile advertising so important for Facebook? Because it's a no-brainer. Facebook has more mobile users than any other social network by a huge multiple (604 million at last count), but has been slow in advertising to those users. Facebook games are drying up — Zynga, which produces FarmVille and has been the most popular game developer on Facebook, is laying off employees as its popularity plummets — and desktop use of Facebook is poised to keep falling as more people ditch their desktops for iPad Minis.
Some are still skeptical that Zuckerberg's mobile-first plan will work. "Can Facebook really keep jamming ads on a page without upsetting its users?" analyst Jordan Rohan asked the WSJ. But Facebook has no other options. Phones and tablets are already the de facto devices for accessing social networks among a certain user base, and as that trend expands, mobile ads need to be profitable for Facebook to avoid going the way of Zynga.
Facebook's onetime private valuation of more than $100 billion was, in some ways, predicated solely on the idea that it would figure out how to make mobile work. But the botched IPO created a confidence problem: If investors couldn't trust Facebook CFO David Ebersman to run a smooth offering, how could they trust Facebook's ad team to build a steady mobile revenue stream?
Today, the ad team has shown that it can deliver the goods. And with the stock still trading above $23, you can practically hear the sighs of relief in Menlo Park from Manhattan.