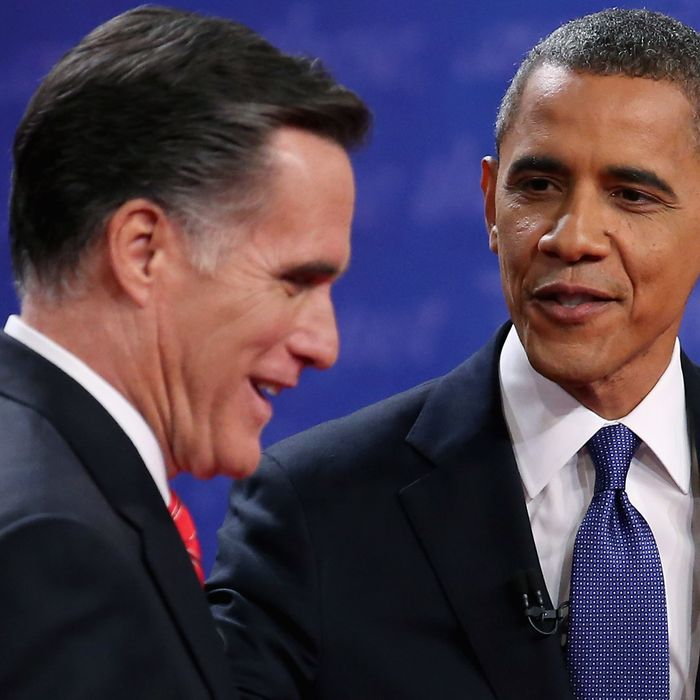 Photo: Chip Somodevilla/2012 Getty Images
In the most immediate way, the current wave of Democratic panic is probably overblown. If you want to understand why Mitt Romney's current polling bounce is probably not a fundamental reshaping of the race, read Nate Silver and Nate Cohn, but I'll summarize it for you. Polls have very low response rates. Sometimes short-term events that dominate the news cycle excite partisans and make them more likely to answer pollsters — it happened when Romney picked Paul Ryan — but they don't reflect a deep remaking of the public opinion landscape, which remains fairly settled.
On the other hand, a continued series of events like last week's debate really might change the narrative of the race. And here is the bad news for Democrats: Their best shot has already come and gone. The debates will anchor the campaign narrative from here on out, and the three debates that follow all offer less favorable terrain for them to press their case.
Up next is the vice-presidential debate Thursday night. Liberals are excited to see Joe Biden tear after Paul Ryan, and Republicans are expressing trepidation, but the prospect that Biden will tear apart Ryan's math is almost a pure fantasy. Ryan is not a good budget wonk — witness his 2010 exchange with Ezra Klein when he simply abandoned all his nonsensical talking points and conceded everything.
But you can't expose your opponent's misleading budget numbers to win a presidential debate any more than you can expose your opponent's misleading budget numbers to win a swimsuit competition. The audience has no concept of the underlying facts. The audience will only be able to grasp the atmospherics of the debate. And Paul Ryan is a world-class bluffer. He will spout figures with winsome authority, and Biden will come off as an angry old man.
The next debate is a town-hall meeting. Obama's campaign is talking up its plan to roll out a new, tougher Obama who will challenge Romney's slick evasions. But a town-hall meeting is a whole different animal. In a one-on-one debate, you can fillet your opponent. A town-hall meeting consists of undecided voters pressing the candidates for answers. The focus of the event is on answering the questions of the voters. Using their questions to assail your opponent is bad form — indeed, the Regular Voters who ask the questions, and serve as proxies for the public, can be counted on to implore the candidates to stop attacking each other so much. Romney will use the town hall to proclaim his deep and abiding concern for all of America, and Obama will have little chance to disprove it.
And then the final debate centers on foreign policy. Obama can try to use some of the questions to turn to domestic policy, but that risks a scolding from host Bob Schieffer.
Obama, of course, still has opportunities to expose Romney. His new stump message and campaign ads all attempt to tie Romney to his unpopular proposals and statements. But the spine of the remaining campaign will be the debates, and the corrective counterpunch Democrats hope for will probably never arrive.