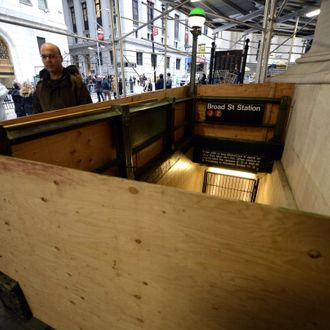 Monday is going to be a challenge for pretty much everybody on the East Coast thanks to the Frankenstorm, but its impact on business in the New York area will be particularly severe as all U.S. stock and options markets planned to close and halt trading, and the transit system is offline so nobody can get to work. After a rush on stores to lay in supplies, most people are likely to stay at home, so there won't be much action at local businesses for the next couple of days either. All told, the storm is expected to cause $15 billion to $18 billion in damage, one analysis firm told Bloomberg. Below, a look at the major business impacts we can expect, starting Monday.
The markets are closing: This is probably the most dramatic of the financial effects from the storm. The

N.Y.S.E.

is closing for the first time since September 11, and the Nasdaq,

BATS

, and Nymex commodities exchange are also planning to close, though Nymex will allow electronic trading. The

N.Y.S.E.

had first said it would allow electronic trading, but then decided to cancel all

 

trades.
Nobody can get to work: "The fact that transit is shut down for an indefinite period makes it impossible to continue normal business operations in the city," Kathryn Wylde, the president of the Partnership for New York City, told The Wall Street Journal. A lot of people are working from home, but many are also getting a day off at least on Monday and possibly further into the

 

week.
Bank headquarters will be affected: The Times reports Goldman Sachs and CitiGroup plan to close their Lower Manhattan offices, "which house the firms' enormous trading floors," to all but essential staff. American Express will also close its New York headquarters, Bloomberg reports.

JP

Morgan Chase, for its part, planned to close one office in Lower Manhattan, but to keep the rest of its locations open, with generators on

 

hand.
Hospitality could be a winner: "New York is a city driven by work," New York University urban policy professor Mitchell Moss told the Journal. "People are going to come in tonight, stay tonight and stay another night," so hotels and bars could benefit. But large restaurants will almost certainly suffer as people's access to the city is

 

hindered.