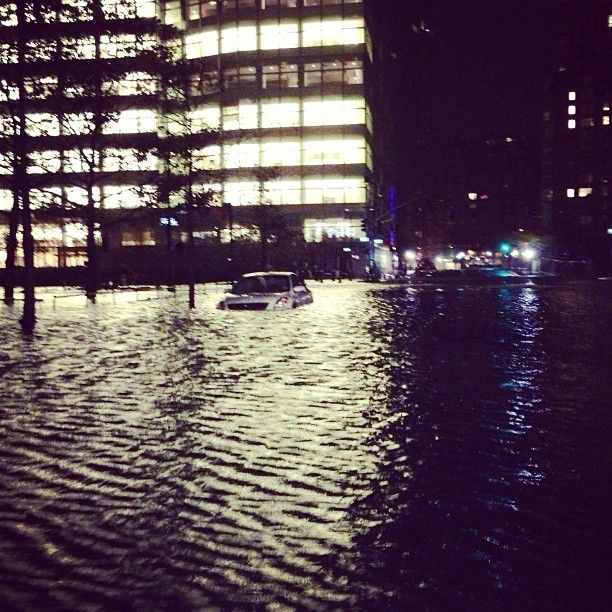 via Instagram user @charliewalk
Last night, amid the frenetic news coverage of Hurricane Sandy, a photo of Goldman Sachs's 200 West Street headquarters (above) made the rounds. The photo, which appeared to show Goldman's building lit by a backup generator while many buildings in Lower Manhattan were darkened by power outages, drew anger on Twitter:
But Goldman spokesman David Wells told Daily Intel on Tuesday that Goldman's building had been only one of many in the neighborhood to stay lit. (Indeed, in the photo, the building on the right, across the street from 200 West Street, appears to have power as well.)
"We weren't the only building with light, but we do have a generator," Wells said. "We're not drawing power from the grid."
Wells said that emergency storm preparations, including a massive wall of sandbags outside the front entrance to 200 West, had helped both the bank's Manhattan and Jersey City locations avoid major damage. Goldman employees are working from home today, and officials are hoping to open the Manhattan office for at least limited use on Wednesday.
Meanwhile, Citigroup said that its investment bank headquarters, also located in Zone A, sustained "minor flooding" during the storm and was still without power, according to Reuters.
Both the New York Stock Exchange and the Nasdaq will open for trading tomorrow, with the NYSE reportedly planning to use a backup generator for power.
Update: Goldman Sachs president Gary Cohn just appeared on Bloomberg TV, where he confirmed that the bank's buildings had only been slightly damaged by the storm, and said that Goldman was assembling a task force to help non-employees in Battery Park City who were hit by the storm. "We completely feel an obligation to the neighborhood," Cohn said.
Goldman is detailing its emergency aid measures on its Twitter feed: