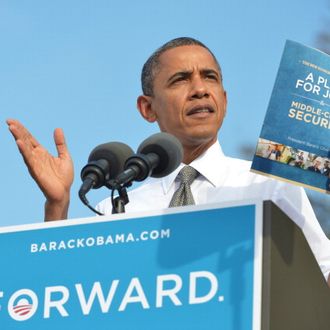 A thoughtful blog post from Des Moines Register editor Rick Green, about President Barack Obama's refusal to go on the record in a conversation in which he sought the paper's endorsement, highlights how carefully politics is staged, often to the detriment of voters. From Green's post, it sounds like what the president said in his private phone call with Green and the paper's publisher was very much worth hearing. (Mitt Romney allowed his interview with the paper's editorial board to be published.) But nobody will hear it because the Obama campaign refused to put the remarks on the record. Green blamed the fear of a "gotcha" in his follow-up note to the campaign.
"Thanks for making today's call happen," I wrote to spokesperson Erin Seidler. "It was very beneficial, informative and wide-ranging. I appreciate the hurdles that needed to be cleared."

However, "one note of feedback for you and the Obama Team: It should have been on the record. You would have wanted this 30-minute conversation to be shared with the rest of Iowa. I understand all the worries, the fears and potential implications … I know how one slip-up could lead to a (news) cycle-changing 'gotcha.' But you and I both know Iowa is coming down to the wire and the polls are incredibly close.

"What the President shared with us this morning — and the manner, depth and quality of his presentation – would have been well-received by not only his base, but also undecideds. From a voter standpoint, keeping it off-the-record was a disservice."
Unless the Obama campaign changes its mind and allows the paper to report the specifics of what the president said, the most we'll learn about that off-the-record conversation will come with the paper's endorsement, which is due to go online Saturday at 7 p.m.
Update: Well that didn't take long. Facing questions over its lack of transparency, the Obama campaign has relented and will allow the paper to post the formerly off-the-record exchange on its website. Lesson learned: The Iowans always get what they want.