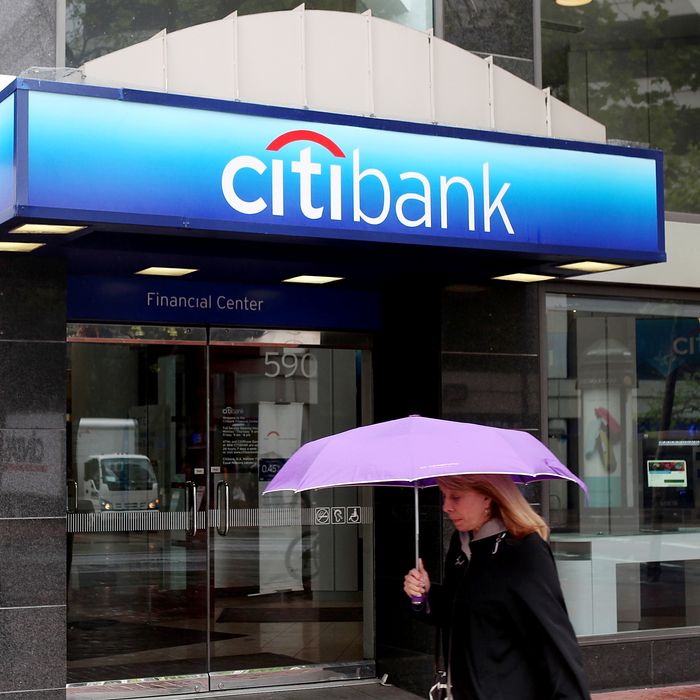 It's always raining at Citigroup.
Photo: Justin Sullivan/Getty Images
A fun thing that banks do around earnings season is start nipping and tucking themselves, accentuating the good parts of their quarterly earnings and hiding the bad. This can be accomplished in many ways: by excluding so-called "onetime charges" that have no effect on core business trends, by futzing with things called CVA and DVA that are way too boring and complicated to explain so just read this if you're interested, and by steering analysts and reporters to the best parts of their businesses and away from the clunker divisions.
In a stunning feat, Citigroup, which reported its third-quarter earnings this morning, managed to pull off all three.
Just look at this marvelous do-si-do of bad news avoidance, via The Wall Street Journal:
Citigroup's profit tumbled 88% as the bank took a $4.7 billion writedown related to its stake in Morgan Stanley MS +0.92% Smith Barney and a large accounting hit tied to its own debt … Excluding the writedown and DVA, Citgroup said its net income was $3.3 billion, 27% higher than the third quarter 2011 … Excluding the DVA impact, net income in Citigroup's Securities and Banking unit rose 67% to $1.6 billion from the year earlier period.
So, except for all the stuff we lost money on, we made money last quarter! High fives and Macanudos for everyone!
The background to today's dismal earnings is that Citigroup has been, for several years, the big-bank equivalent of Pig-Pen, that guy from the Peanuts who was followed by a cloud of dirt everywhere he went. The bank got hit hard by the financial crisis and hasn't gotten many breaks since. It has had executives sued (unsuccessfully) for mortgage fraud, had shareholders balk at its executive pay packages, been dragged into Libor-gate, and came out on the losing end of a tête-à-tête with Morgan Stanley over the valuation of their Smith Barney joint venture. Most alarming, its five-year stock chart looks like this:
(For comparison's sake, BlackBerry-maker Research in Motion — by many accounts a nearly failed company — has essentially the same five-year losses, and it didn't get a giant government bailout.)
In fairness to Citigroup, some parts of its business are going well. Revenue in the bank's investment banking and fixed-income divisions were up over last year, and the bank says it gained "wallet share" (a horrible phrase that should never be used) "in all major products and in most regions."
Still, with its stock price and its return on equity still in the Marianas Trench, having a marginally better quarter in certain areas (excluding DVA and the MSSB writedown and whatever else Vikram Pandit thinks shouldn't count this quarter) is only a partial victory. Most days, in most ways, it's hard to see any other conclusion: Four years after it took a giant bailout and nearly died anyway, Citigroup is still fairly Screwed.