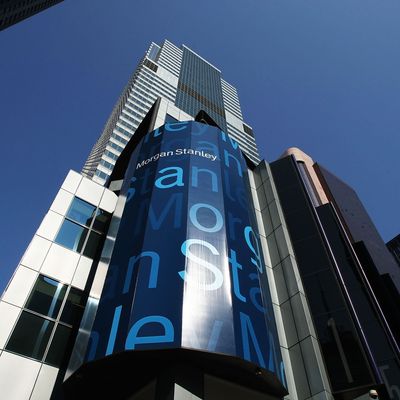 The final installment in my getting-you-to-care-about-bank-earnings series.
Photo: Mario Tama/Getty Images
The good thing about having a bad quarter/year/decade is that it makes even small gains in ensuing quarters/years/decades look like Horatio Alger–scripted reversals of fortune.
So it is with Morgan Stanley, which has been puttering along at the bottom of its peer class for several quarters, and which was downgraded two notches by Moody's earlier this year. The bank put up fairly decent numbers yesterday, earning $561 million excluding DVA and increasing revenue in its institutional securities business to $3.6 billion, from $3 billion last year. But what really made the numbers look good was the bad numbers of quarters past.
Morgan Stanley is still haunted by three little letters: ROE. The bank's return on equity, its most important measure of profitability, is still in the gutter, at 3.5 percent last quarter. (It was 17 percent five years ago.)
To restore its ROE to a non-embarrassing level, Morgan Stanley CEO James Gorman is committed to … cutting expenses. Or something. From DealBook:
"We will be very, very, very focused on noncompensation expenses," Mr. Gorman said on his plan to increase return on equity. "We are very attentive to our overall capital plan over the next couple of years. We are determined to make this global wealth management acquisition work."
Three "very"s!
The "wealth management acquisition" of which Gorman speaks, Morgan Stanley Smith Barney, is moving right along, and Morgan Stanley came out ahead of Citigroup on their battle over the joint venture's proper valuation. So, while skepticism is still permissible, the Little Bank That Could is trying, darn it, and it actually seems to be recovering from last year's lows fairly well.
As a result, we give Morgan Stanley Wall Street's Most Improved Player award, and a rating of Mostly Not Screwed.