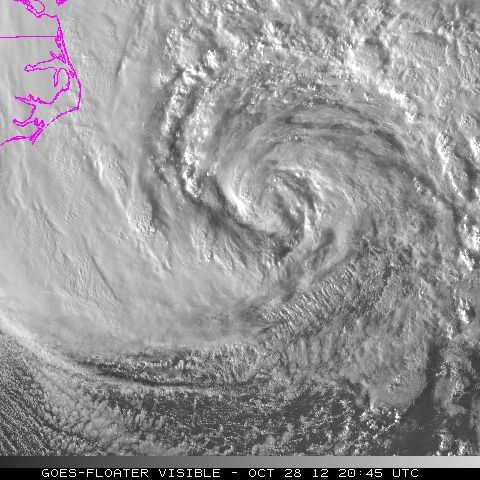 Latest satellite image of Sandy, off the coast of North Carolina.
As Hurricane Sandy (a.k.a. Frankenstorm) barrels toward the densely populated Eastern Seaboard, nine states along the Mid-Atlantic coast have now declared states of emergency, with Delaware, New Jersey, and Connecticut ordering mandatory coastal evacuations. Some computer models show the storm making landfall southern New Jersey as early as Monday afternoon — hence, Governor Chris Christie's decision to shut down Atlantic City's casinos — with the National Oceanic and Atmospheric Administration predicting "life-threatening storm surge flooding […] including Long Island Sound and New York Harbor." With wind speeds of up to 55 m.p.h. expected for the New York metroplitan area, Governor Andrew Cuomo announced that all New York City subways, commuter trains, and buses will be suspended starting at 7 p.m. tonight. 
As the New York Times' City Room blog reported yesterday, it will take eight hours for the MTA to fully implement its shutdown plan. MTA chairman Joe Lhota said he expected the trains to return to service around 12 hours after the storm ends. "I do think Monday and Tuesday are going to be difficult days," he said. 
Meanwhile, Jeff Masters over at Wunderground.com thinks there's a 30 percent chance of subway tunnels flooding, especially in downtown Manhattan.
In other words, folks, this is looking a lot more serious than Hurricane Irene, so take New Jersey Governor Chris Christie's advice:
Everyone's saying, 'This is crap, it isn't going to happen. The weathermen always get it wrong, so I'm just going to hang out here.' Please don't, O.K.? We have to be prepared for the worst here.
Update I: Mayor Bloomberg has announced a mandatory evacuation for Zone A, which includes Coney Island, the Rockaways, Brighton Beach, Red Hook, the waterfront areas of Sunset Park, Williamsburg, and Greenpoint, and parts of Manhattan near the East River. (You can find out what zone you're in here.) He urged residents of those areas to follow the evacuation order, calling those who planned to ignore it "selfish" and likely to put the lives of rescue workers at risk. He also announced that there will be no school on Monday, and that city parks will close at 5 p.m. Sunday. The city will be on high wind warning from 6 a.m. Monday to 6 p.m. New Yorkers should expect sustained winds of up to 55 m.p.h., with gusts up to 80 m.p.h. The strongest winds are expected to hit on Monday afternoon and evening.
Mayor Bloomberg's full press conference from this morning is below.
Update II: The city has put together a basic preparedness and evacuation guide; it's definitely worth a look. 
Update III: Attention all travelers: You are screwed. Over 3,000 flights have been cancelled to make way for Sandy. According to FlightAware, 211 Sunday flights in and out of Newark have been cancelled, as have 152 for LaGuardia and 129 for JFK. Monday is even worse: 848 flights in and out of Newark have been cancelled, as have 491 for LaGuardia and 620 for JFK. 
Update IV: Quartz has posted a list of East Coast webcams from which you can watch Sandy's approach from the safe comfort of your couch (assuming your internet doesn't go out.) 
Update V: Sandy's on Twitter! She's got a lot of personality. 
Update VII: Despite its flood zone location, the New York Stock Exchange will be open on Monday. Even a soaked trading floor is unlikely to put a stop to business, since most investment work can be done electronically, anyway. BATS Global Markets and Nasdaq OMX Group also say they do not intend to close for Monday. Goldmach Sachs, whose headquarters are also located in the flood zone, said it has "plans in place to ensure the safety of its people and that operations continue," as do other big guys like JP Morgan Chase and Citigroup. As Reuters points out, most firms have alternate trading facilities they can use if downtown Manhattan becomes inaccessible. 
Update VIII: President Obama visited FEMA headquarters earlier today to tell everyone anticipating a Hurricane Irene-like flop "that we have to take this seriously." But since Sandy hasn't made landfall yet, "We don't yet know where it's gonna hit, where we're going to see the biggest impacts and that's exactly why it's so important for us to respond big and respond fast as local information starts coming in." As for those in his own campaign (and Romney's) who are freaking out about voting disruptions come Election Day, Obama just deadpanned said, "We don't anticipate that at this point."
Update IX: More transport mayhem as Amtrak cancels all service north of New York by 7 p.m. today, with its entire Northeast Corridor shuttered tomorrow; meanwhile the PATH system is shutting down indefinitely at the stroke of midnight. The Staten Island Ferry will also be suspended indefinitely starting at 8:30 p.m., while the East River Ferry (already suspended) expects to stay closed through tomorrow. The New Jersey Transit system also began a gradual shut down at 4 p.m. It will be closed entirely by 2 a.m. Monday morning. 
Update X: For those who dare venture outside of Daily Intel for weather updates (or just some extra reading material for the many, many hours New Yorkers are about to spend indoors): The New York Times is suspending its paywall starting this afternoon, Poynter has learned. The Wall Street Journal plans to do the same tomorrow. 
Update XI: Mayor Bloomberg did another press conference at 4 p.m. He said it was "crucial" that people living in Zone A leave their homes for one of the city's 76 evacuation centers (or the homes of non-Zone A friends or family.) "I can't stress enough that this is for your own safety," he said. "And that if you refuse to evacuate, you're not only putting yourself at risk, but also the first responders who will have to assist you in an emergency." Heat, hot water, and elevator service in public housing located in Zone A will be shut off at 7 p.m. Bloomberg also said that, as of now, ConEd was not planning on shutting down electrical service in lower Manhattan, though he acknowledged that the system could fail. He also said that there were no current plans to shut down New York's bridges and tunnels. The Brooklyn and Manhattan Cruise Terminals have ordered all ships out to sea. 
Update XII: The New York Stock exchange has now announced that the trading floor will be closed on Monday, though electronic trading will go on. 
Update XIII: An advance group of 250 National Guardsmen (along with heavy duty Humvees, helicopters, and engineering equipment) will be stationed in New York City in the coming hours — some based in Manhattan and the rest in Queens — as part of a 1,175-strong contingent mobilized statewide by Governor Andrew Cuomo earlier today. For comparison: 4,400 guardsmen helped with flooding relief post-Tropical Storm Irene.
Update XIV: Washington, D.C.'s federal offices will be closed tomorrow. 
Update XV: Here's what Frankenstorm Sandy looks like from space, courtesy of NASA. As you may have expected, it is quite large.
Update XVI: It wouldn't be a major storm without Chris Christie berating New Jersey residents.
Update XVII: President Obama has declared a state of emergency for New York, which authorizes FEMA "to coordinate all disaster relief efforts … and to provide appropriate assistance for required emergency measures."
Update XVIII: Courtesy of Con Ed, a useful tip for managing your freezer should the power go out: "Most fully loaded freezers will keep food frozen for approximately 36 to 48 hours; half-full freezers will keep food frozen for approximately 24 hours." Also, every time you open the freezer door, you are letting in warm air and killing your frozen burritos, so don't do that.
Update XIX: Mayor Bloomberg has been accused of having a boner at a press conference today.
Update XX: The White House released this photo of President Obama at FEMA headquarters, pressing his fingers together contemplatively:
Update XXI: The National Weather Service reminds everyone to follow evacuation orders because it would be really rude to make emergency crews recover your bloated corpse.
IF YOU ARE BEING ASKED TO EVACUATE A COASTAL LOCATION BY STATE AND LOCAL OFFICIALS, PLEASE DO SO …. IF YOU ARE RELUCTANT, THINK ABOUT YOUR LOVED ONES, THINK ABOUT  
THE EMERGENCY RESPONDERS WHO WILL BE UNABLE TO REACH YOU WHEN YOU MAKE THE PANICKED PHONE CALL TO BE RESCUED, THINK ABOUT THE RESCUE/RECOVERY TEAMS WHO WILL RESCUE YOU IF YOU ARE INJURED OR RECOVER YOUR REMAINS IF YOU DO NOT SURVIVE.