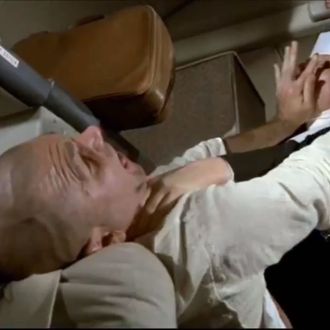 This is what you should be doing, right now.
As adherents of Journalism, we have a sacred duty to our readers — nay, to society as a whole — to keep the public informed while remaining calm and level-headed, to report the news without sensationalism, and to avoid panic-mongering at all costs. But holy shit, everyone, a giant storm is going to destroy New York next week and everyone needs to start freaking out immediately!!!
Hurricane Sandy, currently hanging out off the coast of Cuba, has a good chance of moving up the East Coast and combining with "an early winter storm in the West" and "a blast of arctic air from the North" to create "gale-force winds, flooding, heavy rain and maybe even snow" for much of the Northeast starting on Sunday and stretching into the middle of next week, according to the AP. 
Now, this may not sound like such a big deal. We're New Yawkas, fuhgeddaboudit, right? Sure, yes, that. But this isn't the kind of storm that New York has seen before … maybe ever.
Some have compared it to the so-called Perfect Storm that struck off the coast of New England in 1991, but [NOAA forecaster Jim] Cisco said that one didn't hit as populated an area and is not comparable to what the East Coast may be facing. This has much more mess potential because it is a combination of different storm types that could produce a real whopper of weather problems, meteorologists say.

"The Perfect Storm only did $200 million of damage and I'm thinking a billion," said Jeff Masters, meteorology director of the private service Weather Underground. "Yeah, it will be worse."
That's right: It's worse than a storm known to history as the Perfect Storm. Because it's not just a storm, it's a snowicane. A Perfect Snowicane, Hurricarnage, or whatever portmanteau we collectively settle on eventually. And just when you didn't think it could get any crazier:
It is likely to hit during a full moon …
Werewolves! Snowicanewolves, dropping from the clouds like hail!
… when tides are near their highest, increasing coastal flooding potential, NOAA forecasts warn.
Oh, right … still pretty bad, though.
Update: The National Weather Service is going with "Frankenstorm," which we consider to be an acceptable portmaneau:
THE HIGH DEGREE OF BLOCKING FROM EASTERN NORTH AMERICA ACROSS THE ENTIRE ATLANTIC BASIN IS EXPECTED TO ALLOW THIS UNUSUAL MERGER TO TAKE PLACE, AND ONCE THE COMBINED GYRE MATERIALIZES, IT SHOULD SETTLE BACK TOWARD THE INTERIOR NORTHEAST THROUGH HALLOWEEN, INVITING PERHAPS A GHOULISH NICKNAME FOR THE CYCLONE ALONG THE LINES OF "FRANKENSTORM", AN ALLUSION TO MARY SHELLEY'S GOTHIC CREATURE OF SYNTHESIZED ELEMENTS.
Update II: The latest projection of the National Hurricane Center places Sandy right off the coast of New Jersey by Tuesday morning. By that point, the NHC predicts a 10 percent chance that Sandy will still be packing hurricane-force winds and a 38 percent chance of Tropical Storm-strength winds.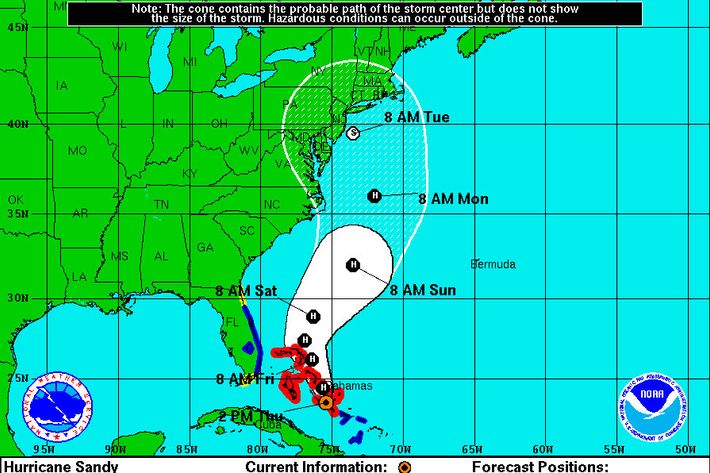 Update III: "It's happening" is exactly what we would expect a weatherman to say in a movie called Frankenstorm 2012.
Update IV: The MTA has begun preparing for Frankenstorm, according to chief Jay Lhota, although there are not plans as of yet to shut down the subway.
Update V:  Mayor Bloomberg advises New Yorkers: