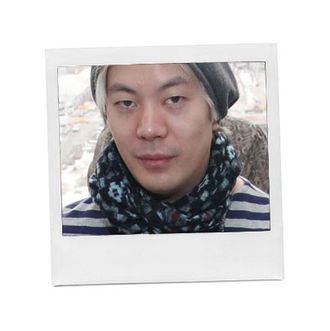 Photo: Astrid Stawiarz/Getty Images
Name: James Iha
Age: 44
Neighborhood: Brooklyn
Occupation: Musician; Co-owner of Stratosphere Sound Recording Studio (with Adam Schlesinger of Fountains of Wayne). His new solo album, Look to the Sky, is out now.  
Who's your favorite New Yorker, living or dead, real or fictional? 
I love a lot of the New York bands, but Patti Smith stands out. I just read Just Kids and it's an inspirational, well-written account of an emerging New York artist in the late seventies.
What's the best meal you've eaten in New York? 
I was recently at a dinner party for the artist Kristin Baker at Indochine, where I was reminded of how great and fun Indochine is. I had the summer rolls and crispy red snapper.
In one sentence, what do you actually do all day in your job? 
Make music, tell a few jokes.
What was your first job in New York?
I'm from Chicago, so my first job there was cleaning up a bar in a VFW.  My first job in NYC was playing a gig in the early nineties at CBGBs.
What's the last thing you saw on Broadway? 
Anything Goes. Love the music; show was fabulous.
Do you give money to panhandlers?  
Yes.
What's your drink? 
Bourbon and soda.
How often do you prepare your own meals? 
Thirty percent of the time. I wish it were more, but I don't know how to cook, really. I learn a new dish every six months.
What's your favorite medication? 
Dream Water (Snoozeberry flavor).
What's hanging above your sofa? 
A photo of David Bowie.
How much is too much to spend on a haircut? 
Somehow $200 is too much for a haircut (now, color is another story … ).
When's bedtime? 
Midnight to 1 a.m.
Which do you prefer, the old Times Square or the new Times Square?  
I guess the old Times Square, but I always try to avoid any Times Square.
What do you think of Donald Trump?
Not my favorite New Yorker. His politics and bluster are not my cup of tea.
What do you hate most about living in New York? 
The garbage.
Who is your mortal enemy? 
Big Bird.
When's the last time you drove a car? 
I bought a car a few months ago. It's fun driving again!
How has the Wall Street crash affected you?  
Unfortunately, another nail in the coffin of the music industry. 
Times, Post, or Daily News? 
Times.
Where do you go to be alone?  
The bathtub.
What makes someone a New Yorker? 
Living in the city over ten years? Crossing the street without ever looking at crosswalk signs?