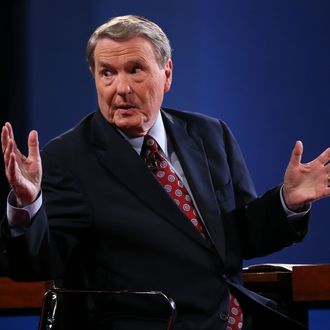 Does this mean I won't be back in 2016?
Photo: Justin Sullivan/Getty Images
Earlier this week, the New York Times reported that Jim Lehrer was "seething" over complaints that he was an uninspired choice for moderator of 2012's first presidential debate. Before the candidates had delivered their closing remarks, a consensus had already emerged on Lehrer's performance, with "Poor Jim" trending on Twitter and a new "Silent Jim Lehrer" account quickly gaining thousands of followers. Between losing control of the conversation and getting into sharp exchanges with both candidates, Lehrer would probably be happy if the worst thing people were saying about him right now is that he's the "safe" choice.
Rather than prodding the candidates on their responses, Lehrer focused on trying to keep them within the 15 minutes allotted for each segment and ensuring that they were given equal speaking time. Yet he failed even in that task. At the end of the debate, Wolf Blitzer said that by CNN's count Obama spoke for four more minutes than Romney.
Throughout the debate, when either candidate insisted on finishing a thought or responding to his opponent, Lehrer did little to stop him. About twenty minutes into their response to the first question, Lehrer noted, "Just so everybody understands, we're way over our first 15 minutes." Romney quipped, "It's fun, isn't it?" and Lehrer didn't push them to move on, though at that point a question about jobs had veered off into a discussion of taxes and the budget. "I don't have a problem, because we're still on the economy," he explained.
Later, while attempting to rein in Obama's comments on health care reform, Lehrer found himself on the receiving end of one of the night's more memorable zingers when he informed the president, "Two minutes is up, sir." Obama replied, "No, I think — I had five seconds before you interrupted me." Following some laughter from the audience, Obama continued speaking for at least fifteen seconds. "Your five seconds went away a long time ago," grumbled Lehrer.
With twelve presidential or vice-presidential debates under his belt, Lehrer was prepared for a critique of his debate performance. "It's a rough, rough world — I know that," he told the Times. "And those of us who have decided to play in that world have to play by those rules. I'm susceptible to the same smears as anyone else." Still, he should probably steer clear of Twitter for the next 24 hours or so. Here's a sample of the responses:
Why does Jim Lehrer keep trying to stop them from debating? Gentlemen, please, this debate is no place for debating! — Bill Maher (@billmaher)

Seems to be bipartisan consensus on this. RT @jpodhoretz: Jim Lehrer may be the worst moderator in the history of moderation. — Joseph Weisental (@TheStalwart)

FACT-CHECK - Obama makes baseless claim that Jim Lehrer did a good job moderating. — Ari Melber (@AriMelber)

Jim Lehrer did a much better job with the first debate he moderated: Lincoln vs. Douglas. — Todd Jones (@Todd_Jones)

"Gentlemen, PLEASE…" – Jim Lehrer, at 3:12 a.m., as Romney begins his recounting of the plot of PRACTICAL MAGIC #debate — Patton Oswalt (@pattonoswalt)

Somewhere, Bill Clinton is shouting answers to all of Jim Lehrer's questions at his television — Onion Politics (@onionpolitics)

Worst drinking game ever: Drink every time Jim Lehrer asks a question — Louis Klarevas (@Klarevas)

#debates Jim Henson's company is doing a great job moving Jim Lehrer around. — Tyler Hurst (@tdhurst)

One thing these two candidates CAN agree on: Jim Lehrer should only speak when spoken to. — Jeff Yerger (@jyergs)