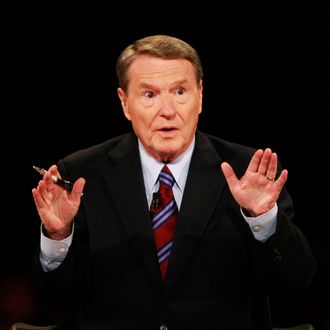 Photo: Chip Somodevilla/2008 Getty Images
Jim Lehrer is "seething," the New York Times reports. The white, 78-year-old former anchor of PBS News Hour, who's hosting his twelfth presidential debate on Wednesday, is pissed and "offended" at suggestions that he's too old and too safe to moderate yet another debate, even after he promised he wouldn't. "There's no way I'm going to do another debate," he said when his book, Tension City, was released last year. "The decision to write the book was also the same decision that I'm not going to do any more debates." And yet, here we are, the same as ever.
"'It's a rough, rough world — I know that,'" Lehrer tells the Times, "his voice rising in exasperation," although it's tough to tell exactly which accusations he's taking issue with. "'And those of us who have decided to play in that world have to play by those rules. I'm susceptible to the same smears as anyone else.'" The Times cites the "partisan rancor in this hyper-politicized climate" but doesn't get into the issues that come with a human presenting himself as wholly objective.
And the old guard is lavishing nothing but praise on Lehrer anyway. "His idea of fairness is fiercer than anyone's — he has an almost religious respect for being fair," Lehrer's former co-host Robert MacNeil told Politico over the weekend. "He stays so far out of the political swamps that he doesn't even vote." Old white men like Tom Brokaw and Ted Koppel also give their vote of confidence.
As for going back on his word, "I did say that and I meant that, with every bit of firmness I could muster. But I also have said that people who are invited to moderate these events — you have to do it," Lehrer explained. "It's almost like getting a draft notice," he added, again showing his age. He also didn't rule out 2016 ("God knows").
The rookies, on the other hand, might be more warranted in both their defensiveness and nervousness: CNN's Candy Crowley will be the first woman in twenty years to moderate a presidential debate when she takes the stage on October 16. "There's always going to be someone throwing a shoe at the television asking why don't I know this or why I didn't ask that," she says, adding with a laugh: "Mind you, every morning I wake up, I want to throw up thinking about it."