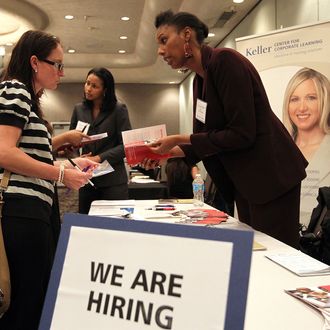 Is this business
really
hiring, or is this part of the conspiracy too?
Photo: Justin Sullivan/Getty Images
The polls may have gotten scary as hell for President Obama, but a different set of numbers could be a good omen for him. A week after the unemployment rate fell to 7.8 percent, the weekly jobless claims — the number of people seeking unemployment assistance — has dropped to 339,000, its lowest level since February 2008, although the legitimacy of the report has yet to be confirmed by Jack Welch's gut instincts. Assuming the data isn't part of a vast bureaucratic conspiracy, it raises the question: Can the economy save Obama from himself?
>
Update: Apparently the numbers aren't quite what they seem. CNBC has the somewhat complicated explanation, but here's the gist: