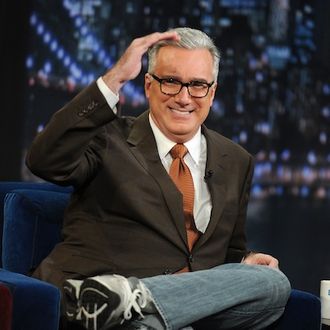 It's been months of sad sunsets, home movies, and self-described money-counting for Keith Olbermann since getting fired from Current TV, and now the hard-to-please host is ready to get back to work. At Forbes, Jeff Bercovici writes that Olbermann, who has also done time at MSNBC, Fox Sports, and CNN, is "aggressively job-shopping, and he's not being too picky about it."
Responding to a fan on Twitter today who said they shouldn't "be allowed to hold elections if there's no commentary" from Olbermann, the newsman replied, "Thank you! But this would make me Giuliani-esque, no?" His reported behavior in private, though, shows another, more eager side:
In recent weeks, Olbermann has reached out to executives at a slew of different networks to communicate his desire for a new on-air role, according to people with knowledge of those conversations. Those include both cable outlets and at least one broadcast network.

He has expressed interest in taking over as anchor of existing shows and in starting a new show. Indeed, several of the networks he's approached don't have any news programming per se on their schedules.
If not news, Olbermann would be up for returning to sports coverage, Bercovici reports. And if neither news nor sports pans out, there's always YouTube to go with the Twitter and Tumblr.