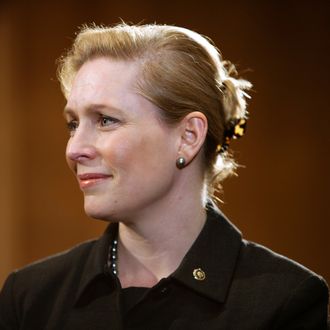 Photo: Brendan Hoffman/2011 Getty Images
Today at noon, Senator Kirsten Gillibrand will be in the city raising campaign cash. What's interesting is that none of the money will be for her. New York's junior senator has instead put together an $800-a-head lunch on behalf of four female Democrats in tight races. Tammy Baldwin (Wisconsin), Shelley Berkely (Nevada), and Heidi Heitkamp (North Dakota) would be the first women to represent their states in the U.S. Senate; Mazie Hirono (Hawaii) would be the first Asian-American woman. And Baldwin would be the first openly gay senator from anywhere.
That Gillibrand is in a position to worry about candidates other than herself this fall is in itself remarkable. After becoming Governor David Paterson's surprise, dead-of-night pick to replace Hillary Clinton in the Senate when Caroline Kennedy's candidacy collapsed, Gillibrand was frequently ridiculed as a lightweight upstater who kept two rifles under her bed. Election forecasts labeled her "vulnerable" as recently as this spring. Yet she clobbered her 2010 special election opponent by 35 points and is on the way to an even bigger rout next month.
The weakness of the state's Republican party has something to do with those Gillibrand wins, but her capacity for hard work has been equally important. Gillibrand has also made some savvy choices. She's championed issues that put her on the side of the angels (more health-care money for 9/11 victims, repealing "don't ask, don't tell") and endeared her to downstate liberals. Plus, Gillibrand has pulled off the nifty trick of raising her media profile without irritating Chuck Schumer — in part by seizing publicity opportunities not available to New York's senior senator, like posing in Dolce & Gabbana for Vogue.
Monday's fund-raiser is the latest example of how Gillibrand has learned to imitate Schumer and differentiate herself at the same time. He led the 2006 and 2008 campaigns that swung the Senate to the Democrats; she is trying to expand that edge by backing fellow females. "In 2010, for the first time in 30 years, the percentage of women in Congress went down," Gillibrand says. "Yes, I'm trying to elect Democrats, but I think electing more women can also change the dynamic of the Senate. Women tend to build consensus and reach across party lines more to get things done." She's also raised more than half a million dollars for women House and Senate candidates, including Elizabeth Warren.
There's already been speculation about Gillibrand as a 2016 presidential contender; most likely she'll spend that year trying to navigate the complicated space between Andrew Cuomo and Hillary Clinton. But if the four women boosted by Gillibrand win this fall, she'll be strongly positioned to follow in Schumer's footsteps and chair the Democratic Senate Campaign Committee in 2014. Playing the gender card has helped Gillibrand rise in the Senate. She may now be on the verge of more than girl power.