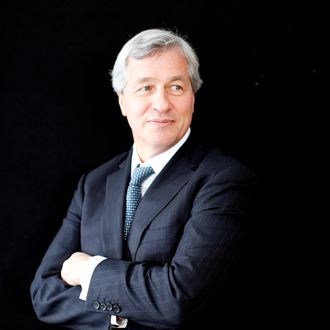 Mess with the bull, you get the horns.
Photo: Simon Dawson/Bloomberg via Getty Images
Javier Martin-Artajo, meet underside of bus.
Martin-Artajo, a London-based former JPMorgan Chase executive who supervised Bruno "London Whale" Iksil in the bank's chief investment office, is being sued by his former employer for allegedly helping conceal the Whale's massive losses, which have amounted to at least $6 billion. 
The details of the lawsuit aren't public yet, according to Bloomberg, but are presumably related to previously reported details about Martin-Artajo allegedly telling Iksil to mark his trades higher than market value as the losses mounted. A lawyer for Martin-Artajo said he was "deeply disappointed by the bank's unjustified assertion that he may have attempted to conceal the losses."
Martin-Artajo, who was described earlier this year by The Wall Street Journal as a "tall, wavy-haired man who resembles the actor Jon Hamm," has already left JPMorgan and is presumably male-modeling to pay the bills.