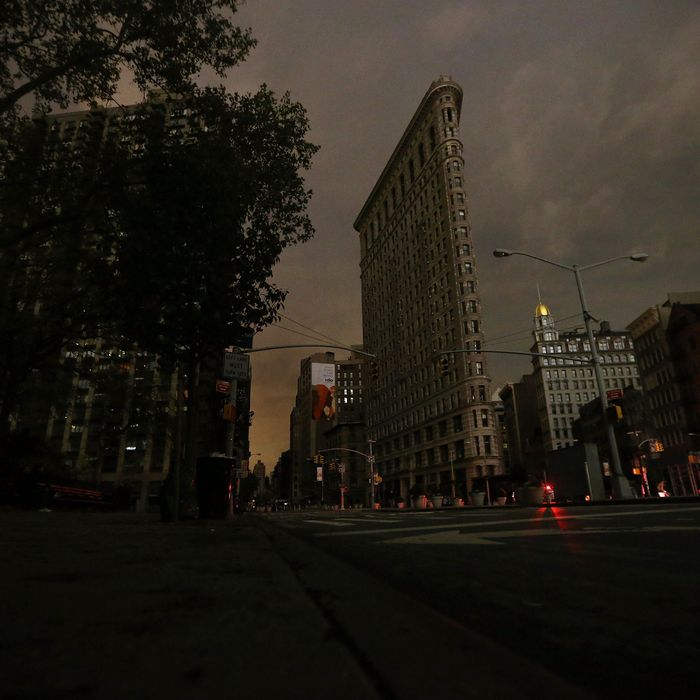 Photo: Mario Tama/Getty Images
Although the local recovery effort is in full swing and New York City saw some sun today, tonight will be another in the pitch-black for much of lower Manhattan. Hundreds of thousands of people downtown are still without power, and the Con Edison cleanup could take a while, with full service not expected for up to four days. Used to feeling like the center of the universe, people in the area are not pleased.
The New York Times puts the dividing line at 25th Street:
South of 25th, the streetlights on the West Side were not working, and the buildings were completely dark. There seemed to be no stores there, no Starbucks, no places to charge a phone and no idea when the lights would go back on. South of 25th, the effects of the storm were deeply felt. Not so uptown.

"I just biked down from Hell's Kitchen, and it is like a Friday night up there," said Chris Degner, who lives in TriBeCa. "And then you get down here and it is like entering a zombie movie."
Twelve NYU dorms are without power and being evacuated, so that explains the straggling underage masses. Cell service in the area is reportedly so bad across all four major carriers that people are resorting to pay phones and even waiting in line.
There are more serious concerns, as explained by Gothamist reader Jonathan Maimon, who puts the affected area anywhere south of 38th Street:
For now, this is an economic crisis - hourly workers cannot be paid, freelancers have no clients, small businesses have no sales, office buildings are shuttered. In my estimate, the lost output is $1 billion dollars EVERY SINGLE DAY that goes by without power for lower Manhattan. […]

There is no running water or flushing toilets for people living in the Jacob Riis Houses and surrounding NYCHA buildings on the Lower East Side. In my estimate, this is roughly 20,000 people. […]

I did not witness a single Red Cross Truck or FEMA Vehicle or in lower Manhattan. Recall the assistance these agencies provided after 9/11 - this is NOT HAPPENING. There are bound to be hundreds of elderly people, rich and poor, who live on the upper floors of buildings with elevators that are now disabled. IF POWER IS NOT RESTORED, THIS WILL MOVE FROM BEING AN ECONOMIC DISASTER TO A HUMANITARIAN DISASTER.
He has much more here.
And when some of the subways spring to life tomorrow, the bottom portion of the island will remain isolated.
Yet another unfortunate side effect: outsize feelings of borough superiority. "Brooklyn smug never felt so cozy," writes Choire Sicha at the Awl. "Over the last few years, the not really funny joke has been that Manhattan is the new Brooklyn. This time, it's official."