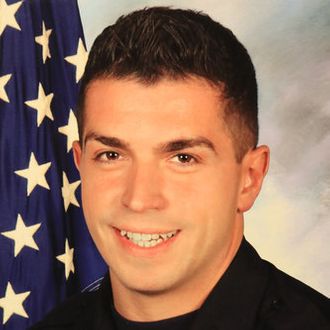 Officer Arthur Lopez.
Photo: Nassau County Police Department
Following an eight-hour manhunt, on Tuesday night police arrested ex-con Darrell Fuller for allegedly killing a Nassau County cop and a man driving on the Cross Island Parkway. The violence on the Queens/Nassau border started around 11 a.m. this morning when police officers pursued a silver Honda fleeing an accident in Bellerose Terrace, Long Island. Police pulled the car over, and Officer Arthur Lopez approached the vehicle. According to the New York Times, after exchanging a few words with Lopez, the driver shot him in the chest, and sped away as the other officer, Clarence Hudson, performed CPR on his fallen partner. Then on the Cross Island Parkway, the suspect forced another car off the road. Sources tell the Daily News that Raymond Facey was talking on the phone with his daughter when he was shot in the head. The suspect took off in Facey's car, then abandoned it in Middle Village, Queens, and took off on foot, sparking a search that involved hundreds of officers from New York City and Long Island.
Around 6:35 p.m., police identified Fuller, a Queens man who served five years for a 2004 attempted murder conviction, and was later arrested for violating parole. Minutes later, a report came in that a man had been shot on 11th Avenue in Jamaica. Police found Fuller lying on the ground with what appeared to be a self-inflicted gunshot wound to the shoulder. According to a mechanic who witnessed the shooting, the entire incident was caught on video.
Officer Lopez, who was 29, died later at Long Island Jewish Medical Center in New Hyde Park. Less than a week ago, another on-duty Nassau cop, Joseph Olivieri, was killed in a car accident involving a drunk driver. James Carver, president of the Nassau Policeman's Benevolent Association, said the force is still "reeling" from the loss, and pushed for stronger punishments for cop killers. "To say that this is a difficult time would be an understatement," he added.