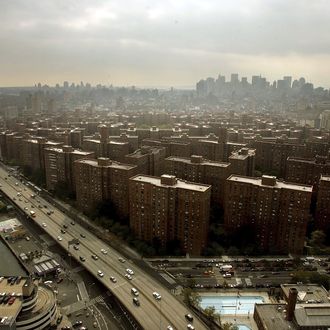 A lot of apartments.
Photo: Mario Tama/Getty Images
The median rent price in Manhattan surged 10 percent in September from a year ago and is up 3.2 percent from August, according to a new report. It now sits at $3,195, just below the all-time high set in 2006, which it's expected to surpass early next year. So what's behind the soaring rent prices? 
Improving employment in the city has increased demand for leasing …. Newly hired potential tenants are competing for housing in a market already crowded with would-be homebuyers who are lingering in their apartments because they can't get a mortgage, he said. New York City added 77,400 jobs in the 12 months through August, according to the state Labor Department.
So the improving unemployment rate is what's raising the city's rent prices? Ugh, thanks for nothing, formerly jobless people. Now we know how the Romney campaign feels.