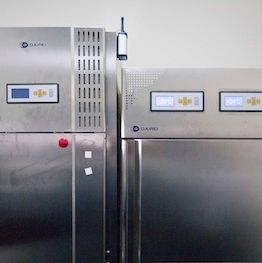 Five people have died and 35 have fallen ill in six states as a result of fungal meningitis that's been transmitted in a steroid shot with a solution commonly used to treat back pain, Reuters reports. The first victims were reported in Tennessee, where three people have died and 25 others have been diagnosed with rare form of meningitis. All of the Tennessee cases and those in Virginia, Maryland, Florida, North Carolina, and Indiana, trace to a pharmaceutical compounding plant in Framingham, Massachusetts — the New England Compounding Center, which has since surrendered its license. Massachusetts health officials said on Thursday that the pharmacy has recalled three lots that each contain 17,676 single-dose vials of the steroid, preservative-free methylprednisolone acetate, according to the Associated Press.
"We do know there were over 700 patients in Tennessee who were exposed," said Dr. William Schaffner, an infectious disease expert at Vanderbilt University School of Medicine. "At the moment, fortunately, the attack rate looks pretty low — less than 1 percent — but we are still in the early days of defining this thing."
Reuters reports that the CDC has not yet determined the rate of infection in patients injected with the potentially tainted steroid, a figure that indicates how the outbreak might spread. Some facilities returned unused vials to the pharmacy, but it's unclear how many of the thousands of vials from the tainted lots reached 75 destinations in 23 states that might have received them. At one particular clinic in Evansville, Indiana, more than 500 patients received injections from the lots in question.  
Schaffner said there is a fairly long incubation period for fungal meningitis, which hasn't expired yet for some patients. Fungal meningitis is a potentially fatal disease that causes inflammation of the lining of a person's brain and spinal cord; symptoms include sudden onset of fever, headache, stiff neck, and nausea. It's not contagious between people but can be transmitted by needle when steroid medications are in the mix, because steroids weaken the immune system. "Over the next few weeks, we are going to see a progressive accumulation of cases," Schaffner said.