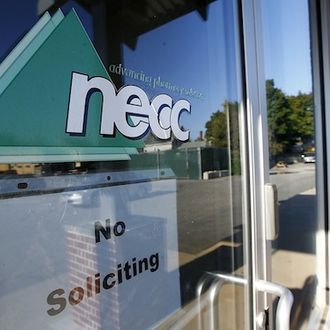 On the day a national meningitis outbreak claimed its sixteenth fatality, the compounding pharmacy thought to have provided contaminated steroid injections that caused it got its first visit from federal criminal investigators. But so far, pretty much all we know about the criminal investigation into the New England Compounding Center in Framingham, M.A. is that it exists, and the company thinks it could have been handled more delicately.
The agents who raided the Framingham facility were from the FDA's Office of Criminal Investigations, which confirmed it had an investigation underway but wouldn't say what the suspected crimes were, the New York Times reported. The OCI investigates tampering, fraud, and the manufacture and transport of counterfeit goods, among other things, according to its website. The U.S. attorney's office in Boston obtained a sealed warrant for the raid, and said it was investigating the company, too. But again, it wouldn't say for what.
An NECC lawyer told Reuters the company had been cooperating with the FDA's non-criminal investigation so far, and he seemed a little hurt that the agency thought it necessary to carry out a raid. "Asking would have produced the same result," he said.