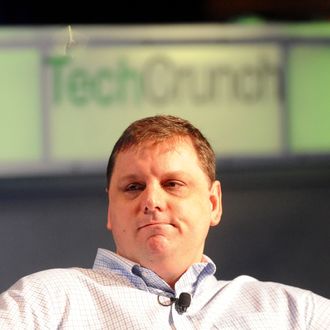 Photo: Bloomberg/2010 Bloomberg
The Arianna Huffington Era at AOL was pretty short-lived. For a time after the $315 million merger, Huffington was in charge of all editorial properties, from the one bearing her name to once-independent heavyweights like TechCrunch, and even Moviefone and MapQuest, but it just didn't last. And if there were any doubt remaining that Huffington's reign across the AOL kingdom is over, today's news should do it: Michael Arrington is coming back to TechCrunch.
Arrington, remember, was unceremoniously fired last year from the tech blog he founded in 2005. Although he sold to AOL the year prior with the promise that he'd retain full editorial control of his baby, the endless conflicts of interest between Arrington the Blogger and Arrington the Investor became too massive an elephant for Huffington to ignore when he created CrunchFund, a venture capital firm, with a $10 million investment from none other than AOL.
After some ugly and public back-and-forth, including an ultimatum to AOL, published on TechCrunch, that he be given "autonomy from Huffington Post, unfettered editorial independence and a blanket right to editorial self determination," Arrington was out. (He went on to write his conflicted heart out as a self-proclaimed "unpaid blogger" at his protest site Uncrunched.)
But this afternoon, Arrington announced his return as a "paid blogger," albeit with some caveats. "Before everyone starts freaking the fuck out, just hold on a second and hear me out," he announced. It's only as an occasional columnist, he'll disclose each and every business conflict, and AOL can nix his ideas, Arrington wrote — and already has. "So that was new," he added. "Being told 'no,' that is."
Even if he is on a leash, though, it won't be Arianna holding the other end. And good riddance: According to HuffPo spokesperson Rhoades Alderson, "TechCrunch is no longer part of the The Huffington Post Media Group and therefore does not need to abide by HuffPost's journalistic guidelines."