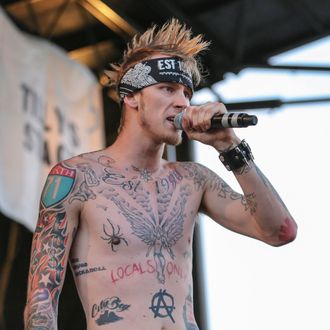 MGK.
Photo: Andy Martin Jr/Retna Ltd/Corbis
Microsoft, like all aging tech companies, wants to show that it can still appeal to the Youngs, that its products are "fresh" and "dope" and not "to' up from the flo' up."
So, in an effort to boost its street cred, Microsoft sometimes allows famous artists to perform for customers at its retail stores. That's a great plan, except when one of those artists stomps all over a table filled with expensive hardware and shouts, "fuck these computers."
That's what happened at a recent Atlanta store concert, sponsored by The Source, when Machine Gun Kelly (MGK), an up-and-coming rapper, launched into a tirade, jumping onto a table filled with tablets and laptops and getting angry when store management tried to cut his performance short:
Lesson learned, Microsoft. Next time, pick Norah Jones. Or at least a rapper who doesn't have violent weaponry right in his name.
Update: A Microsoft spokesperson points out, correctly, that the MGK event was not a store launch – it was a private event held by The Source – and sends the following statement: "On Sept. 28, The Source held a private event at the Microsoft Lenox Square Store. We offer our stores as a venue for the community to use, and this event was not sponsored by Microsoft. While the artist's behavior was appropriate for a concert, some of it was not appropriate in a store environment. Please contact The Source for further information on the event itself."