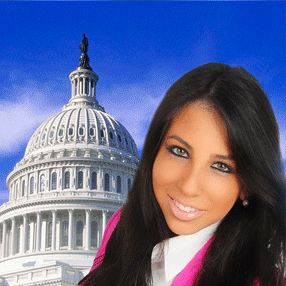 Photo: mindymeyer4senate.com
Glittery, absurdist State Senate candidate Mindy Meyer, a 22-year-old Orthodox Jew and LMFAO super-fan, is not so interested in the parts of campaigning that require policy knowledge or showing up. At a Jewish Channel debate last night, Meyer was represented by an Eastwoodish empty chair against sitting Brooklyn Democrat Kevin Parker after reportedly requesting multiple times that the debate be rescheduled. "She has school commitments," the campaign decided finally, not to mention reality TV to film.
Meyer's people also opted to shun the network from a Meyer fund-raiser as retribution. "The Jewish Channel is not invited to cover the Mindy Meyer event," a spokesperson said. "We don't appreciate being blackmailed into a debate. We will not generate a press badge for your channel."
It's unclear whether that's the same fund-raiser attended by Gawker's Camille Dodero — once touted as a $500-a-plate dinner, but then discounted to $150 — attended by "a live elephant wearing a pink scarf" and "approximately 20 other guests, most of whom were the candidate's high-school friends, neighbors, and immediate family."
There was also a reality-television film crew, but not for Meyer, exactly — the show focuses on the catering company working the event.
Update: In a statement to Daily Intel, Meyer said, "I did not attend the debate as I am in the middle of law school midterms." After the channel threatened to replace her with the empty chair — which Meyer said amounted to "blackmail" — she told them that she would check her schedule and get back to them; "nevertheless," she added, "they proceeded with the debate."
But it wasn't just scheduling: "Kevin Parker's volatile nature was another reason for my no show," Meyer said, citing a 2005 incident in which Parker was accused of punching a traffic cop, along with the state senator's various other "outbursts and hissy fits in Albany." (Parker agreed to anger management classes and the assault charges were dropped.) "What would stop Parker from getting violent if I say something that he doesn't agree with?" Meyer asked.