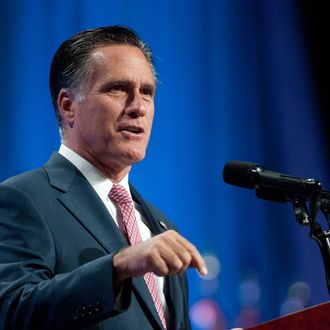 Photo: David Calvert/2012 Getty Images
Thanks to his January gaffe (not to mention his years as a corporate raider), Mitt Romney is widely known as a guy who "[likes] being able to fire people." But, to hear some former (and current) employees tell it, Romney's image as a stone-cold pink slip machine is not entirely accurate. Over the course of his latest campaign, the Republican candidate has been known to put wayward staffers in time-out rather than cut them loose. This aversion to eliminating his own workers is apparently typical of Romney, reports today's New York Times — and it's not necessarily a good thing.
During Romney's 2008 campaign, his advertising team became a collection of "warring factions" with meetings that "devolved into angry shouting matches that stretched on for hours." As one aide, Jan van Lohuizen, recalled, "It was absolutely perfectly horrible and I have tried to completely repress it."
The solution seemed obvious: Mr. Romney needed to step in, untangle the egos and eliminate somebody. But he did not act. "The problem should have been resolved," Mr. van Lohuizen said. "It wasn't. He would have better off had it been."

Colleagues from every phase of his career said that Mr. Romney loathes pushing out people with whom he works closely and will do just about anything to avoid it — an approach that has inspired deep loyalty to him even as it has raised questions about his ability to make tough personnel calls, as presidents inevitably must. (Mr. Obama, for instance, is on his third chief of staff.)
One of Romney's top Olympics aides, Fraser Bullock, said his former boss often refrained from firing people out of concern for their future prospects: "'He personalizes the situation, from what I saw,' he said. 'It's "Oh, boy, what will happen to this person? Are they going to be able to get another job?'"
However, it seems that not all Romney employees are created equal. As governor of Massachusetts, Romney made a project of personally reviewing the state Republican Party's budget. At one point, he asked, "Do we really need to be spending $32,000 on a receptionist?" before suggesting they just get a voicemail system instead.