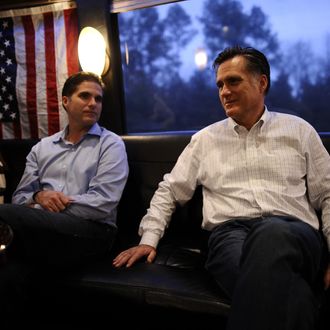 Republican presidential hopeful Mitt Romney rides his campaign bus between Gilbert and Charleston, South Carolina, January 20, 2012. South Carolina will hold its Republican primary on January 21, 2012. (L-R) granddaughter Allie and son Tagg.
Photo: EMMANUEL DUNAND/AFP/Getty
Tagg Romney was 22 years old and a week away from getting married when Romney the Elder "spoke to his son … about the birds and the bees," according to the New Republic via Tagg's college roommate at the time. So, if Romney wins in November, don't expect his inauguration speech to happen until at least 2023.