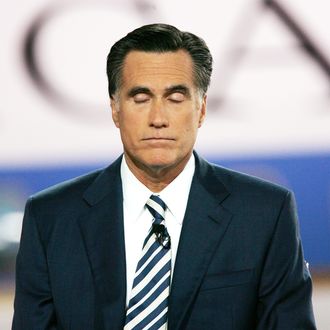 Romney is going to pass out tonight during the debate.
Photo: David McNew/Getty Images
A few days ago, we mocked the absurd lengths to which the campaigns have been going to lower expectations for tonight's debate. "Governor Romney has an unavoidably busy schedule in the coming days, and will likely not sleep for 72 hours prior to the first debate," read one of the bullet points in our fake memo. Well, turns out that we, accidentally, weren't very far off. Buzzfeed reports:
But Romney got virtually no sleep Monday night, an aide said, blaming a freight train that passed through a grade crossing near the hotel and blew its horn roughly every hour all through the night. The candidate's sleep deprivation so worried his staff that the campaign looked into switching hotels. The logistics were ultimately too tough, the aide said, and there was concern about how it would look.
While this sounds like the worst fake excuse ever, the hotel's Yelp reviews, as Buzzfeed noticed, do mention that annoying train, so they're probably not just making it up. Nevertheless, the Romney campaign's expectations-lowering efforts are becoming increasingly difficult to parody.