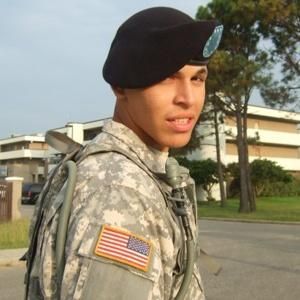 Early Thursday morning, 22-year-old Army National Guardsman Noel Polanco was shot and killed by NYPD detective Hassan Hamdy on the Grand Central Parkway near LaGuardia airport. The police, who were driving in unmarked vans, say that Polanco had cut them off twice and that a "confrontation ensued" after they pulled him over. While one of Polanco's passengers, Diane DeFerrari, says that he never took his hands off the steering wheel, Hamdy reportedly claimed he shot the unarmed man in the stomach because he saw him "[reach] for something." (DeFerrari also said she blamed the death on "police road rage." Polanco's other passenger, off-duty police officer Vanessa Rodriguez, was asleep and did not witness the shooting.) Earlier today, Polanco's mother, Cecilia Reyes (who was visited by Ray Kelly on Friday night) held a tearful press conference calling for an explanation as to what happened:
"I'm not going to give up until I get justice," [Reyes] told a crowd of a few hundred at the offices of the Rev. Al Sharpton's National Action Network in Harlem. "I want justice. I want no cover up; I want answers," she said as Mr. Sharpton stood alongside her.

"We want to believe in the law," she said. "We don't want to have to be afraid of the law."
On Friday, the New York Times reported that Hamdy — a 39-year-old member of the NYPD's Tactical Apprehension Team, which is responsible for going after violent drug and gun suspects — has twice been named in federal civil-rights lawsuits in which defendants claimed police abuse. (Both cases were settled by the city.) In May, he was credited with helping save five people from a burning building while executing a search warrant in the Rockaways. 
The head of the Detectives' Endowment Association, the union that represents Hamdy, called DeFerrari's account "absurd," and added that, "No police officer would shoot a person who has both hands on the steering wheel." The NYPD's Internal Affairs Bureau is already investigating the incident. In a Friday statement, the Queens district attorney said, "The public can be assured that the investigation will be full, fair, and complete."