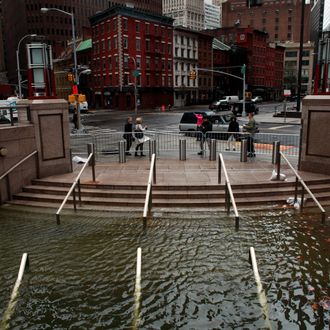 Photo: Allison Joyce/2012 Allison Joyce
Have you ever missed squeezing into a subway car only to smell the man next to you so much? Hurricane Sandy drowned just about every tunnel and station in New York City, leaving commuters back on the daily grind to wait in huge lines for buses or brave Manhattan's traffic gridlock, like we live in Los Angeles or something. That part of this week's nightmare is almost over: Governor Andrew Cuomo announced this afternoon that the MTA is testing subway service today, and 14 out of 23 lines are set to be functioning starting Thursday — but none below 34th Street, where there's no power. Limited commuter rail service, meanwhile, will resume at 2 p.m. this afternoon on Metro-North and the Long Island Railroad. It won't be pretty, but it might get you to work, depending on where that is and which lines end up working.
Update: Here's the official release on what will work and when.
Update 2: Check out what it was like to try and commute in by bus this morning. Several hours of waiting and confusion by thousands of riders who rely on the subway and almost never take the bus: