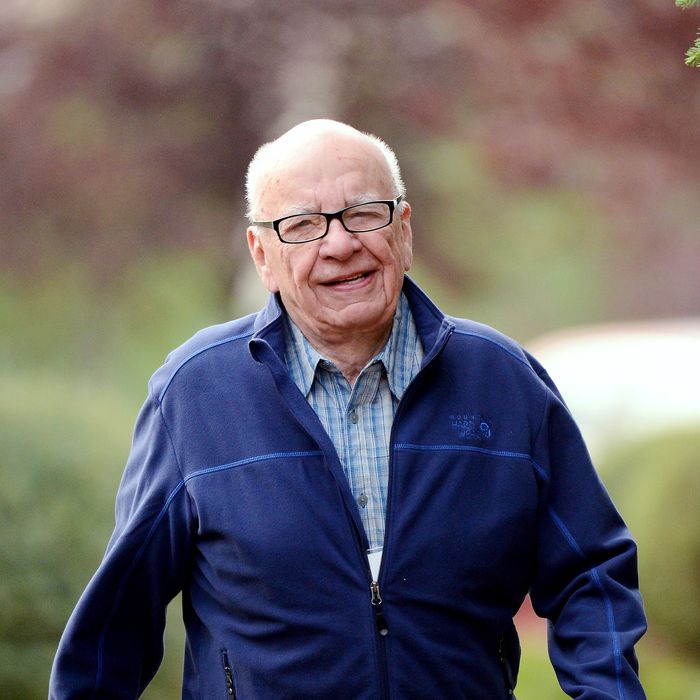 Photo: Kevork Djansezian/Getty Images
The second annual minority shareholder attempt to dethrone the Murdoch dynasty for its handling of the phone-hacking scandal occurred today in Los Angeles at News Corp.'s yearly meeting. Like last time, the Murdoch family, which controls 40 percent of the voting stock, mostly shrugged and retained power. 
While the investigation into the media company's law-breaking is ongoing, the uproar has receded a bit since last year's gathering, with the company set to split the struggling and stained parts from its more profitable pieces. The planned fixes didn't stop at least two large pension funds, along with some additional investors, from voting against the role of Rupert Murdoch and his sons on the News Corp. board, but the threat, and thus the drama, was minimal. The far more entertaining shift at the company in recent months has been the free-wheeling voice of the eldest Murdoch online.
As David Carr wrote for the Times this morning, "efforts to use the scandal to loosen the Murdochs' grip on the company will very likely fail for several reasons: First and foremost, Rupert Murdoch, chairman and chief executive of News Corporation, has delivered financial results for shareholders." Indeed, the protest voters were denied their request to split the two top roles, both held by Murdoch.
The CEO himself never seemed worried, tweeting last week, "Busy preparing for next week's company AGM. Signs pretty peaceful, but any shareholders with complaints should take profits and sell!" Murdoch sounded similarly calm yesterday upon his arrival: "Back in LA. fantastic weather. No wonder people love it here."
The boss's account may not exactly provide the company's few worried shareholders the "independent voice" they're looking for, but it is an independent voice nonetheless. So far in October, Murdoch has used his personal Twitter to sound off 67 times, with 42 of those sent off-the-clock, on Saturdays or Sundays. The messages include:
31 @-replies to fans and critics …
17 thoughts on the presidential election …
2 errant blank responses …
1 reference to phone-hacking victims as "scumbag celebrities" …
1 hip discovery …
1 Taken 2 plug …
1 new nickname …
And too many iPad typos to count.