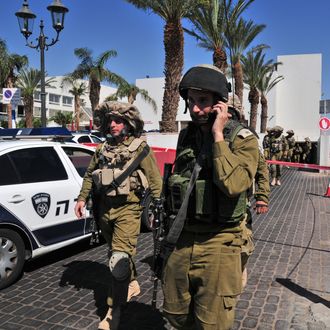 Photo: Eliraz Getah/AP/Corbis
A 23-year-old U.S. citizen from New York opened fire at a hotel in Israel today, killing one man before being shot dead by police. The gunman was staying in the Red Sea town of Eliat on a work-study program but was in the process of being fired from the Leonardo Club Hotel, Haaretz reports. He stormed the busy resort and snatched a gun from a security guard, letting off multiple shots and killing a chef, according to the AP account. "Initial investigations point to a conflict between two workers, over money," a police spokesperson told Haaretz.
"We had just arrived to receive our rooms at the reception desk, and suddenly we saw a fight break out between two hotel workers near the entrance," said one witness. "One of the workers took the security guard's pistol, and even though people tried to break them up, the guy managed to pick up the pistol after it fell."
People were then hurried to their rooms while authorities searched for the suspect, who police described as "a normal guy … There was nothing that indicated what would happen in the end." He has not been identified.
When the incident ended, "Everyone left here happy, clapping," said one guest, oddly. "There was a lot of tension." The hotel was full because of the Jewish holiday Sukkot. "Life goes on," the woman added. "We won't let this ruin our day and our vacation."