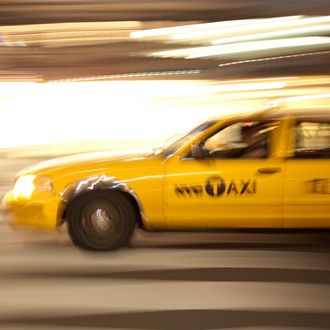 Photo: Jon Arnold/AWL ImagesJA/Corbis? Jon Arnold / AWL Images
In the year 2050 of our dreams, New Yorkers will simply think about wanting a cab and one will pull up, fly over traffic to any destination — even in Brooklyn — and automatically process payment via osmosis. This year, a few tech companies made steps in that general direction but are now pulling up short, with attempts to update the all-powerful Taxi and Limousine Commission proving more difficult than anticipated. For both the taxi-hailing and payment app Uber and the mobile payment start-up Square, local pilot programs have faltered.
The San Francisco–based Uber, which allows users to users to summon a ride through a smartphone, is "about to take a very expensive bath," a source tells the Verge, after a battle with the TLC kneecapped the company's plan to expand from black car to yellow cab service. Because medallion-ed drivers have not been authorized to accept payment through Uber, the start-up got creative and offered a free-ride deal last month.
But without an agreement in place, according to The Verge, the program is being quietly packed up, with taxis no longer listed as an option on the Uber website:
Multiple drivers said Uber called them into headquarters, claiming they needed to come by in order to get paid and would get a cash bonus for showing up. When the cabbies came in, Uber surprised them by asking for the device back, informing them that taxi service was no longer available in New York.

"They said they're no longer doing the taxi thing any more, they're collecting the phones back," one cab driver told The Verge. He'd been using the app since Uber first launched its taxi service, and noticed the number of passengers dwindling. "When they first started, it was okay," he said. "Every week it was slower than the other, and for the past week or so, they just did nothing."
Meanwhile, Square, the project of Twitter co-founder Jack Dorsey, was given the go-ahead by the TLC in March to test its quick and easy iPad payment system in 30 cabs through February of 2013. It only made it into about fifteen cars, and that trial, too, is ending early, GigaOm reports, as Square has opted to revamp its hardware and software, while eating the current costs:
Square said it will reimburse medallion owners and taxi cab drivers who participated in the test. Square will pay the cost of uninstalling Square's system and reinstalling another system from VeriFone or Creative Mobile Technologies, the two incumbents. And Square said it will also pay $378 to each medallion owner and taxi cab drive to cover the estimated difference in processing fees between its service and other existing in-taxi technology services for the remainder of the original trial period.
When it comes to the subway, at least the delays and fare hikes happen the old-fashioned way.
Update: After some initial pushback from the company, Uber has confirmed The Verge report and blamed the TLC in a statement:
Unfortunately, as many of you have noticed, there haven't been enough available TAXIs. Demand far out-stripped supply, making you feel pretty lucky when you got a yellow from your iPhone. We did the best we could to get more yellows on the road but New York's TLC (Taxi and Limousine Commission) put up obstacles and roadblocks in order to squash the effort around e-hail, which they privately have said is legal under the rules. We'll bite our tongues and keep our frustration here to ourselves.

So what can we say… such is life as a transportation technology innovator, boldly going where no man has gone before (well at least for 30 years). New York City's TLC will hopefully get things moving, and let UberTAXI back out in the wild next year.