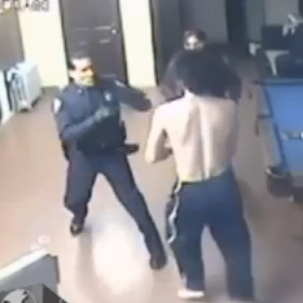 A man asleep in a Brooklyn synagogue and youth outreach center last week awoke to some overly aggressive NYPD officers, based on the security footage released last night. A volunteer guard called the police on the shirtless fellow, identified as Ehud Halevi, who reportedly tried to explain to the officers that he had permission to crash on the couch. But when Halevi threw his hands to resist arrest, the male cop on the scene crouched into a boxing stance and began to throw wild punches, while his female partner used pepper spray and a truncheon to get in a few extra blows. 
After a few minutes of struggle on one of the community center couches, including more than a couple more punches, eight additional officers arrive on the scene to arrest the overnight guest.
CrownHeights.info, which released the video, reports that "the man had full permission to be there, and had been living there for a month without any trouble." He's been charged with a felony count of assault on a police officer, along with a handful of misdemeanors including trespassing, resisting arrest, and harassment.
"I regret making the call," the guard at the youth center said to the Daily News. "I should have let him sleep. It spiraled out of control."
Update: NBC New York reports that investigations by the NYPD Internal Affairs Bureau, the Civilian Complaint Review Board, and the Brooklyn district attorney's office are underway.