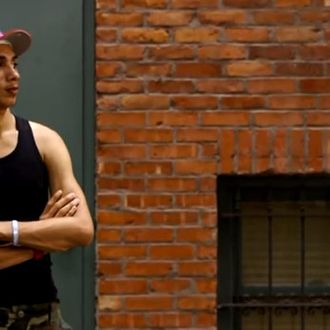 A new documentary on the NYPD's controversial stop-and-frisk tactics includes jarring audio from one such search that neatly encapsulates everything critics say is wrong with the program. "I just got stopped like two blocks ago," says Harlem teenager Alvin, who covertly recorded the encounter on his phone. "You know why? You look very suspicious," an officer responds before adding, "Shut your fuckin' mouth before I slap you." Asked why he's being held, a cop tells Alvin, "For being a fuckin' mutt." And the threats keep coming: "Dude, I'm gonna break your fucking arm," says the officer, "then I'm gonna punch you in the fuckin' face."
The recording is being widely publicized for the first time as part of a video by documentary filmmaker Ross Tuttle, who published the tape on the Nation's website today. Unlike previous homegrown attempts to push for police accountability, like Copwatch or the NYCLU's stop-and-frisk iPhone app, "This is a rare thing because the police don't know they're being taped," Tuttle told Daily Intel. 
The recording was obtained by Tuttle's co-producer Erin Schneider, who was given the clip by Alvin's step-father while researching her own film on the movement against stop-and-frisk. Alvin, she said, "was scared, in a little cocoon, and wouldn't go out at night" after the incident, but she eventually gained his trust and convinced him to appear on-camera. "There's some fear there and I don't blame him," she said. "But he did say what he hoped to do with the audio is to help kids going through the same thing."
Alvin, who was not arrested during the stop and does not have a criminal record, called 911 to report the aggressive search immediately after it occurred and has been waiting on mediation for over a year now. "There's been no way to get behind the blue wall," said Schneider.
"This audio confirms what we've been hearing from communities of color, again and again," NYCLU executive director Donna Lieberman told the Nation. "They are repeatedly subjected to abusive and disrespectful treatment at the hands of the NYPD." Faiza Patel of the Brennan Center suggested, "An independent inspector general would be in a position to review NYPD policies and practices — like the recorded stop-and-frisk shown here — to see whether the police are violating New Yorkers' rights and whether the program is in fact yielding benefits."
Just yesterday, Mayor Bloomberg shot down that idea yet again. "I think if you want to bring crime back, let's go politicize control of the Police Department," he said. "The last thing we need is some politician or judge getting involved with setting policy, because you won't be safe anymore." But the ugliness of this recording can't be the only other option.