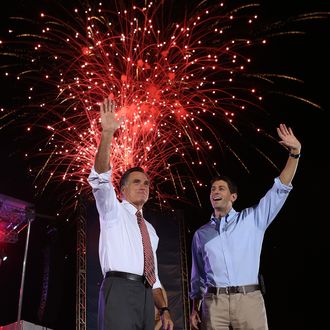 More proof of the dark arts: Sparks flying out of Romney's head. (Justin Sullivan/Getty Images)
Photo: Justin Sullivan/2012 Getty Images
Robert Gibbs, a senior Obama campaign adviser, sat down earlier today with CNN's Candy Crowley (the moderator of Tuesday's town hall-style Presidential debate) and promised that President Obama would be far more "passionate" behind the podium this time around. "He knew when he walked off that [Denver] stage, and he also knew as he watched the tape of that debate, that he has to be more energetic." Gibbs also gave an updated assessment of Mitt Romney's runaway win in the first debate. Having previously called it a "masterful performance" (built on "fundamental dishonesty"), he's now calling it "magical and theatrical." Since everything that politicians and their campaign operatives ever say is thoroughly and doubly fact-checked, we're guessing that the Obama team must've discovered Ohio Senator Rob Portman's side job as a Wiccan — tutored by Christine "I'm Not a Witch" O'Donnell, perhaps — and unearthed footage of a secret GOP drama club staging of Wicked, where Romney plays a suit-wearing, data-guzzling Wizard.
Rather than lower expectations for his own candidate — every campaign's go-to pre-debate strategy — it seems that Gibbs is out to characterize Romney as an actor who got lucky (or got away with a little political sleight of hand). Not this time, he pledged.
But now Obama has a lot to prove. Vice-President Biden may have re-energized a panicky Democratic base on Thursday, but there's little evidence that he or Paul Ryan swayed voters in any serious way, and Mitt Romney's post-debate bump looks to have calcified. According to Nate Silver, 15 polls from across the "skewed" and "unskewed" spectrum show Romney up an average 4.6 points this Friday as compared to before the October 3 debate — which, at this stage of the game, is (channeling Biden) "a big fucking deal."
In a race as neck-and-neck as this one suddenly is, you can be sure that both sides will pull out all the stops in the weeks to come, and possibly even a political wizard's kettle or two if things look dire.