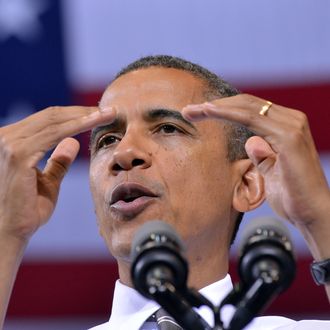 Photo: Jewel Samad/AFP/Getty Images
The Obama campaign raised more than $150 million in September, a record amount in a single month during the 2012 election cycle, reports The Wall Street Journal. Good timing for a leak for the campaign, which spent the day fighting back after Romney attacked a punchless Obama at their first debate. Neither the Journal nor CNN sources confirmed the precise amount of the September haul because officials are still counting donations, which don't have to be reported to the Federal Election Commission until October 20. One Obama campaign aide told the Washington Post that the campaign had its best fundraising month "ever," while another said only that it was a record for 2012 (previously Obama's $114 million in August); the difference could be almost $50 million as Obama's campaign in 2008 set the all-time monthly record with $193 million in September.
Meanwhile Romney's inspired (if dishonest) debate performance has generated a rush of donations for his campaign and for at least one pro-Romney super-PAC, Restore Our Future, whose founder Charlie Spies told CNN that "people are fired up, they're energized and very excited."
Both the Obama and Romney campaigns are raising funds jointly with their parties' national committees.

The Romney campaign has yet to give a number or a ballpark for its September total, but aides promised the amount would be "impressive." After all, who wouldn't want to fly with Mitt on Hair Force Once?