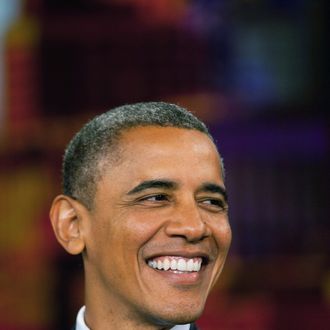 Happy (in the bank) Obama.
Photo: Allan Tannenbaum-Pool/Getty Images
Thanks to an e-mail blast from Obama campaign manager Jim Messina, we've learned that the president's reelection campaign didn't bring in the measly $150 million it was estimating for September, but a whopping $181 million — by far the biggest fund-raising month of the 2012 cycle. (The haul, a combination of money donated directly to Obama and the DNC, is just short of the $191 million the campaign raised in September 2008.) Take it away, Jim: 
>
Last month, we surpassed 10 million donations in 2012 alone. We made history. And we raised $181 million during the month of September. I don't think I have to tell you how huge that number

is.
The more important tally, though, is the number of grassroots donors who came together last month to chip in what they can to help grow this campaign and our party's grassroots organization: more than 1.8 million Americans — 567,044 of whom were first-time donors — giving an average donation of just $53. And 98% of the donations were $250 and under.