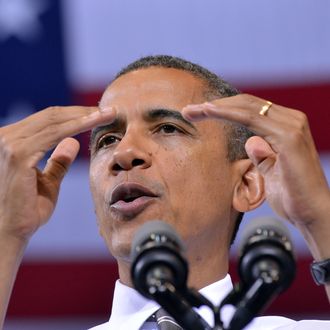 US President Barack Obama speaks during a campaign rally at the Kent State University on September 26, 2012 in Kent, Ohio. Obama and Romney clashed on trade with China, the giant Asian economy, at dueling political events in Ohio, a key midwestern swing state which has seen thousands of blue collar jobs migrate to low cost economies abroad, including China.
Photo: Jewel Samad/AFP/Getty Images
For those who have unsubscribed to the Obama campaign's e-mail blasts: As of today, four million people have donated to the campaign and the DNC more than 10 million times, raising just shy of $1 billion for the president'e re-election effort.