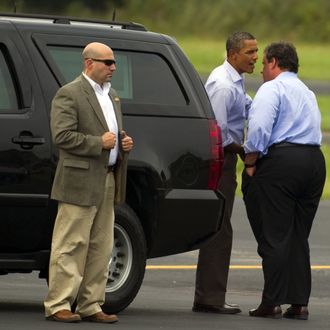 US President Barack Obama (C) speaks with New Jersey Governor Chris Christie (R) as he prepares to depart Paterson, New Jersey, September 4, 2011, after touring the devastation left by Hurricane Irene.
Photo: Jim Watson/AFP/Getty Images
While Mitt Romney holds rallies in Florida tomorrow, President Obama will be joining his No. 1 fan, Chris Christie, for a tour of New Jersey's hurricane devastation and some quality bro time.