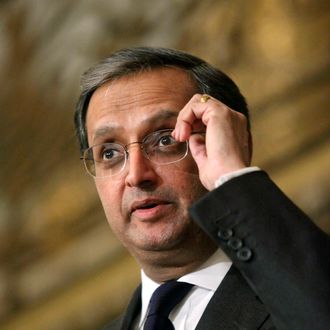 It wasn't you, Vik. It was him.
Photo: Bloomberg/2011 Bloomberg
When Citigroup CEO Vikram Pandit resigned abruptly earlier this month, our source chalked it up to a messy, months-long board dispute. Pandit saw things differently, claiming that leaving was his idea all along. 
Now the New York Times tells us, it appears that Pandit's ouster was the work of Citi chairman and world-class Office Underminer Michael O'Neill, who set out to remove Pandit from the bank at all costs.
O'Neill, who had wanted the CEO spot that eventually went to Pandit in 2007, became Citi's chairman earlier this year and (after a welcome dinner in which O'Neill gave a floral lei to outgoing chair Dick Parsons "in recognition of their shared fondness of Hawaii") began exacting his revenge. He walked the trading floor, looking for signs of dissatisfaction with Pandit's leadership, and corralled support from non-Pandit-allied board members, eventually setting the scene for this gem of a corporate governance case study:
Mr. Pandit strode into the office of the chairman at day's end on Oct. 15 for what he considered just another of their frequent meetings on his calendar. Instead, Mr. Pandit, the chief executive of Citigroup, was told three news releases were ready. One stated that Mr. Pandit had resigned, effective immediately. Another that he would resign, effective at the end of the year. The third release stated Mr. Pandit had been fired without cause. The choice was his.
Ice cold!
Previously in these pages, we've discussed the extreme danger posed by the Office Underminer and its various subspecies, including but not limited to the Toxics, the Complainers, and the Candy-Dish-Havers.
Now we know another type to look out for: the Board Hater, who will stab you in the back, no matter how many times you say, "Hey, Mike! Good morning! Great day in the capital markets!" to him in the executive elevator. No wonder Pandit wants to go work at a hedge fund.