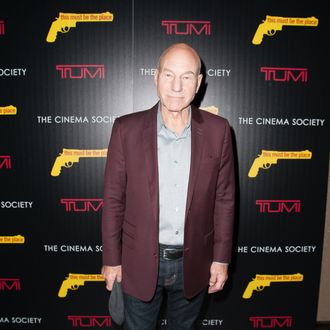 Hates traffic, loves the Nets.
Photo: Dave Kotinsky/Getty Images
Everyone within twenty miles of the Barclay's center seems verklempt about something: public urination, racial profiling, toilet paper shortages, the Brooklyn Islanders, and, of course, the traffic.
Count new Park Slope resident Patrick Stewart among the peeved. "When they had the Jay-Z concerts, Flatbush [Avenue] turned into a parking lot," he told Daily Intel at last night's Cinema Society screening of This Must Be the Place (in which Sean Penn plays a rocker not unlike the Cure's Robert Smith in middle age). The issue, said Stewart, isn't just the dearth of parking but a lack of access routes to the parking structure. And then there's the eyesore of the stadium itself, which looks lovely when lit up at night for events, but hideous during the day.
Still, these are problems for people who drive a lot, and Stewart is a man who enjoys traveling by foot. And basketball. "You are not going to hear me complain," he said (despite having just complained about the traffic), "because I am a sports fan and it now means that I can watch the Nets." Plus, "I don't have to drive, I can walk there. And I have learned I can avoid Flatbush. There are other ways to get to Park Slope, and, of course, the rest of the world will learn that too.
In fact, he's thinking of getting season tickets to Brooklyn's new NBA team. "When there's a stadium a walk away from where you live, why wouldn't you do that? Better than television."
Even Next Generation reruns? Debatable.