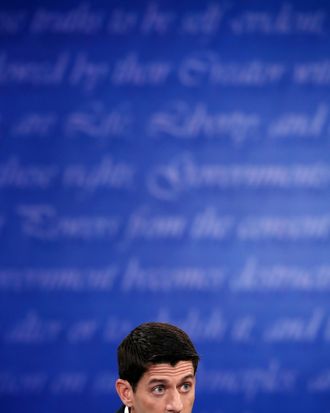 U.S. Rep. Paul Ryan (R-WI) speaks during the vice presidential debate at Centre College October 11, 2012 in Danville, Kentucky. This is the second of four debates during the presidential election season and the only debate between the vice presidential candidates before the closely-contested election November 6.
Photo: Justin Sullivan/Getty Images
During a visit to the Cleveland Browns practice facility earlier today, Paul Ryan did what anyone running for vice-president should do while in the swing state: heap praise on quarterback Brandon Weeden. Unfortunately, Ryan did so while pointing to backup quarterback Colt McCoy.