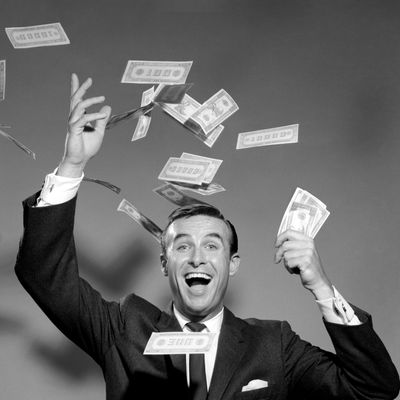 What insolvency? I'm rich!
Photo: DeBrocke/Corbis
The 2007 leveraged buyout of TXU, a Texas-based energy company, is widely regarded to be one of the worst deals in private equity history.
The $45 billion acquisition — led by KKR, TPG, and Goldman Sachs's private equity arm — was timed horribly, right before the recession hit. In the ensuing years, TXU (which the buyers renamed Energy Future Holdings) lost billions of dollars as natural gas prices remained low and sales dried up, and the company was unable to pay down a massive $35 billion debt burden it had piled up as a result of the buyout. Recently, all kinds of investors — including Warren Buffett, who called his investment in TXU a "big mistake" — have been running for the exits and declaring the deal an unmitigated disaster.
So, KKR, TPG, and Goldman lost all their money on TXU, right?
Wrong! In fact, Bloomberg reports that the private equity firms who led the TXU deal "have paid themselves $528.3 million in fees, even as the electricity provider teeters toward a near-term bankruptcy or restructuring."
The payments consist of a $300 million charge for advising on the buyout, annual management fees totaling $171 million and as much as $57.3 million for consulting on debt deals, the Dallas-based company now called Energy Future Holdings Corp. said in regulatory filings. The private-equity firms' fees are as much as 25 times greater than average, based on data from law firm Dechert LLP and researcher Preqin Ltd.
So, in summary: Five years ago, a couple of private equity firms bought a big company, thinking they could make it more profitable. Then the economy blew up. As a result, the company became much less profitable and got into severe financial trouble.
But instead of leaving the company for dead and moving on to the next deal, the private equity owners decided to extract as much money from the company as was possible (25 times as much money as on a normal deal!), even though it was "technically insolvent." So, even if (read: when) the company goes bankrupt, the private equity firms will still have made millions of dollars through sophisticated feats of financial engineering.
America!