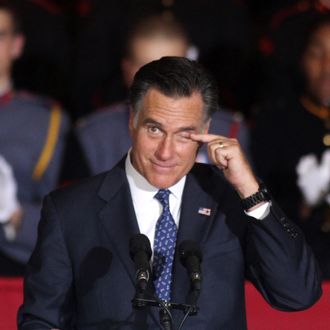 Romney wipes away a tear after hearing the news.
Photo: Jessica Kourkounis/Getty Images
*But, voters don't have to actually show an I.D., and they can vote whether or not they have one. The ruling on the state's controversial new voter I.D. law — one of the most restrictive in the country — means that tens of thousands of citizens will not be disenfranchised next month for lacking a government-issued photo I.D. It also means that Mitt Romney has an even smaller shot at winning Pennsylvania than he did already.