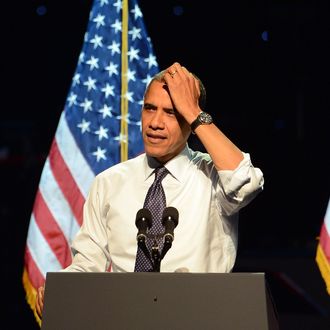 What happened?
Photo: Michael Buckner/WireImage
It's just one poll, and it's never a good idea to jump to any big conclusions based on just one poll. That being said, a new Pew poll shows Mitt Romney beating President Obama by four points among likely voters. The last time any poll had Romney ahead of Obama by four points was in June. Aside from the topline numbers, the poll is chock-full of favorable developments for Romney. Voters now like him as much as they like Obama, think he's as good for the middle class as Obama is, and believe he has more "new ideas" than Obama does. And Romney's supporters are now actually enthusiastic about voting for him (or at least his most current iteration), rather than backing him somewhat dispassionately just because he happens to be the guy running against Obama.
Meanwhile, the race is tied based on Gallup interviews taking place from Thursday through Saturday. Now, it remains to be seen how much of this debate bounce will recede in the coming days. One thing to definitely not do is assume that the race has been completely upended and is now Romney's to lose. But, it's probably safe to assume that the race will be tighter than it was before the Mile High Meltdown. And it may very well be tight until the end. In other words, it's once again the race we always expected.