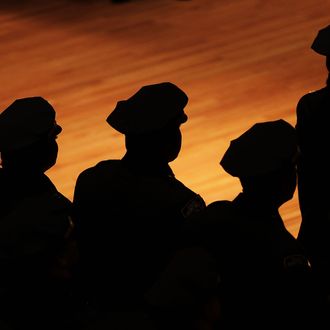 Photo: Spencer Platt/Getty Images2012 Getty Images
In their ongoing struggle to be recognized and respected by the police, reporters and photographers have once again voiced concerns directly to NYPD Commissioner Ray Kelly. In yet another letter from the National Press Photographer's Association, the group cites both the rough arrest of New York Times photographer Robert Stolarik in August and the Occupy Wall Street anniversary, when cops "interfered with, assaulted, detained and in some cases arrested members of the media who were on a public street," as usual.
As occurred during Occupy's first go-round, the NPPA claims journalists were kept from doing their job by an overzealous police force. "It is our strongly asserted position that while the press may not have a greater right of access than the public, they have no less right either," wrote the group's general counsel Mickey Osterreicher. "We strongly object to any journalists being harassed, intimidated and arrested when clearly displaying press identification solely because they were not considered to be 'properly credentialed' by the police."
The group ends by proposing some version of a beer summit, although potential venues and refreshments are not suggested specifically: "given these ongoing issues and incidents we believe that more is needed in order to improve police-press relations and to clarify the ability of credentialed and non-credentialed journalists to photograph and record on public streets without fear of intimidation and arrest. Therefore, we urge you meet with us once again so that we may help devise a better system of education and training for department members starting from the top down." While promises from the police to keep things civilized may not have come to pass so far, the public shaming serves its own purpose.