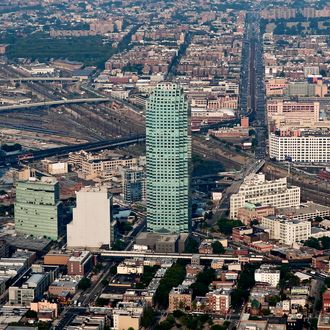 Queens.
Photo: Keyur Khamar/Bloomberg/Getty Images
"The inventory is falling! The inventory is falling!" That's the cri de coeur of the outer borough real estate market this past quarter, according to third-quarter market reports released today. Analyst and appraiser Jonathan Miller, who prepared the report for Prudential Douglas Elliman, says inventory has been falling since 2010, but "now we're noticing it because it's becoming acute." Both Brooklyn and Queens saw the number of available apartments plummet (16.2 percent in Brooklyn and 12.2 percent in Queens), leaving buyers to scramble for what remains and driving prices upward. Any decent property with decent pricing "goes quickly and over asking," says the Corcoran Group's Frank Percesepe.
Consequently, the median sale price in Brooklyn, $525,000, reflects an increase of 3 percent from 2011, the Corcoran Group survey found, and the average price per square foot in the borough leaped to $633, only 5 percent off its June 2008 apex. And in Queens, median sale price is up 1.8 percent to $356,382, according to Elliman, and the average price per square foot was up a whopping 20.6 percent to $346. Last year's number was $287.