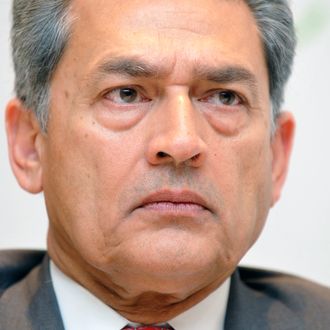 Photo: Bloomberg/2010 Bloomberg
Former Goldman Sachs director Rajat Gupta was sentenced today to two years in prison and fined $5 million for his conviction in June on four criminal-securities-fraud counts stemming from the case against Galleon Group hedge-fund manager Raj Rajaratnam. Gupta, also formerly a board member for Procter & Gamble and the global head of consulting firm McKinsey, was sunk over the summer by circumstantial evidence showing that he placed calls to Rajaratnam, himself now at the start of an eleven-year sentence, directly after Goldman board meetings, spurring Rajaratnam to make massive trades. While Gupta faced a maximum of 25 years in prison and the government recommended up to 10, his lawyers kindly requested a community service mission instead.
In an unorthodox move, Gupta's defense team suggested that, in lieu of prison, Gupta be sent to Rwanda to help with humanitarian projects there. Being a mensch didn't help Gupta avoid conviction, but his attorneys hoped it would help alleviate his sentence. Glowing letters from 400-plus high-powered Gupta allies, including luminaries like Bill Gates and former U.N. secretary general Kofi Annan, poured into the sentencing file, pleading for the judge's mercy. So did a letter from Gupta's daughter Aditi, a Harvard Business School student, who said that she'd been harassed at school as a result of her father's legal troubles.
But Federal District Court of Manhattan Judge Jed S. Rakoff instead handed down a sentence that, while less than the friend Gupta was tipping to, indicates the government's insider-trading crackdown is for real.
Gupta is by far the biggest fish caught in a wide-ranging assault on the practice by government investigators. He is also, by his friends' accounts, a supremely decent guy, with four accomplished daughters and an unblemished business record — giving tips to convicted insider trader Raj Rajaratnam notwithstanding.
"Rajat Gupta has lived an exemplary life of uncommon accomplishment, compassion and generosity," said his defense attorney Gary Naftalis in a brief last week. Gupta can get back to that in 24 months.