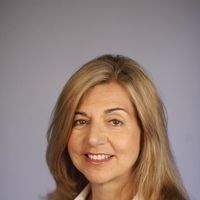 Photo: Courtesy of The Buffalo News
One month into her tenure as ombudsman of the New York Times, former Buffalo News editor Margaret Sullivan has gained something of an Internet fan club. Whereas her predecessor Arthur "Truth Vigilante" Brisbane, charged with representing the public from inside the storied building, barely used his blog and called social media "an alien realm," Sullivan has been churning out quick, rich takes on issues like the paper's quote approval policy and use of the term "illegal immigrant," pleasing many a "media oxpecker," to use former Times editor Bill Keller's endearing term for journalism nerds.
"She has a fairly easy act to follow," said future-of-news pundit Jeff Jarvis, but "I'm very impressed with her," and not just because she's courting "the geek squad," he added. "She's just smart and doing a really good job of not being afraid to tackle issues, to think them through, and to explain her stand well." Jarvis is far from alone in his initial assessment.
"She's earning her paycheck," said Washington Post media critic Erik Wemple. "She has a blog and she's actually using it." Unlike Brisbane, who did "the Ivory Tower thing," Wemple explained, "The people on social media who really follow this stuff can commune with her because she recognizes and is trying to satisfy the medium's need for immediacy."
"It's not a conversation," a grumpy Brisbane told Poynter in an exit interview. "I can fully appreciate that one might say it is a conversation, and it goes on and on and on. That's fine if somebody wants to take that approach. It's not the approach I took." Sullivan certainly recognized this, telling the Times the exact opposite upon her hiring: "I see this as an ongoing conversation with readers about The Times," she said.
According to media critic and professor Jay Rosen, a favorite of the digital elite whom Sullivan has already linked to on her blog, "Brisbane felt he had two constituents: number one, the readers; number two, the New York Times as a majestic though flawed institution. Reading about her approach and watching it unfold, I think Sullivan began with three constituents: the readers, Times journalism as an institution, and the online conversation about how Times-style journalism is best done."
"Brisbane never seemed quite the right fit, he was too old-school, seemed to be oblivious and even somewhat willfully ignorant of the digital landscape," Reuters social media manager Anthony De Rosa added. "Margaret seems more modern and with her feet firmly planted at the intersection of the old New York Times and the new."

Sullivan is definitely plugged in and conscious of her image: After only three days on the job and two blog posts, she published a piece about entering the media "fishbowl" and cataloged a few early reviews of herself from critics. But a certain concern, or even defensiveness, of how she's being perceived makes sense after witnessing the online punching bag Brisbane became. "She's not annoyingly bad and that's so refreshing," said Reuters reporter and proud oxpecker Felix Salmon. "I don't care if she's right or wrong; I just like that she's engaging. She's got this pulpit and she's not afraid to use it."
Beyond engagement, Sullivan has been willing to show her process. In the debate over usage of the term "illegal immigrant," which some advocates believe is derogatory, she crowd-sourced reader opinions, asked a Times immigration reporter, and then came up with her own conclusion yesterday: "Readers Won't Benefit if Times Bans the Term 'Illegal Immigrant.'"
Although Sullivan's view has drawn her first wave of criticism from the blogosphere, "she's thinking in public," Jarvis said. "She's taken on every tough thing," he added, citing also the discussion about the photo published of murdered diplomat Christopher Stevens. "I disagree with her slightly, but still she thought it through well and didn't take the obvious stand, which is 'Oh, I'm sorry we offended someone.' If you're there to represent the public, it's not just about kowtowing and apologizing."
"You can see her brain turning," said Wemple. "She's a good model for what all top editors at the Times should be doing. I know they're busy, but they're not so busy that they don't have time for their very broad readership."